WH&E M2 1 : 1 Berkhamsted M4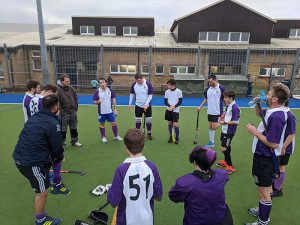 Pre-match was all smiles and breezy, until we learned that our (arguably) strongest team of the season had two unfortunate late dropouts in Joe and Nick. Despite this, we still had the confidence coming into the game to be able to take something from the game.
Once the game was underway, both teams were evenly matched, with Berkhamsted having a bit more of the possession, but Winchmore having the better earlier opportunities. Both Ellis and Stuart were able to keep the opposition wing play at bay with great stops and tackles, whilst down the other end, Jamie was able to constantly battle down our left wing to advance the ball multiple times.
Some beautiful linked play between midfield and attack gave Winchmore their first golden opportunity where Leo found himself in the D with the ball – unfortunately the keeper saved brilliantly. It wasn't long before Peter found himself entering the D from the right-hand side, but with two closing defenders could only put it behind Luke for a missed opportunity.
Come the end of the first half, our chances were drying up and Berkhamsted hit us on the break to score. Tiarnan, who had made some outstanding saves to this point, was a bit unfortunate to concede. So we entered half-time at 1-0 down.
Winchmore came out storming in the second half, as we saw inspiration from our first-half performance – with our opportunities we believed we could score a few. It wasn't too long before Luke had the ball on the left side of the D, sweeping the ball to Leo who tried to outplay the keeper and lift it over the diving goalkeeper – only he didn't dive and the ball hit him in the chest. As time went on, Berkhamsted got more and more into the game, but someone was looking down on Winchmore as Huw became the Virgil Van Dijk of hockey who decided that he couldn't be bothered with Berkhamsted's attacks anymore and broke up literally everything that came beyond the 25-yard line.
Mid-way through the half, inspired by Van Dijk's footballing heroics before his switch to hockey, both teams (allegedly, I'm not sure?) started to play football within Berkhamsted's D before the ball found its way into their net for 1-1! Scored by Pete Morton, who is now the top goal scorer!
They were clearly not happy with this and after the goal was given, it turned on their nasty streak, as one of their players decided to embed their shoulder into Luke's body ? – They really switched on though and Winchmore had to dig their heels deep to put in a strong defensive performance for the final 10 minute. Huw Van Dijk led this defensive effort as we had multiple balls shot into the D, only to be cleared out. In the final minutes, they had a short corner, which was shot well but Luke just managed to deflect it away from goal. Finally, the game finished 1-1 which was a relief.
Special thanks to the ladies and men that came down to watch us too! Was great to be able to celebrate with everyone there!
MOTM – Huw Van Dijk. What a defensive performance from the captain! Couldn't have asked for more.
DOTD – Luke's hamstring. ?
tl;dr: They scored, Huw Thomas built a wall, we scored. Draw.
---
WH&E M1 6 : 1 Bedford M4
It finally clicked. We stuck to our process and a 6-1 win came for M1 versus Bedford M4. I'm sure any moment now Harry Stone is going to embellish this post with all the detail. Goals for Colin (2), Asher (2), Harry and Stan. MOTM Asher.
---
WH&E L1 1 : 2 Hampstead & Westminster L4
Last Saturday the Ladies 1s played top of the league Hampstead and Westminster 4s at home.
We were all channelling our energy from the doughnut game (if you know, you know) and hoping we could push ourselves as we love a challenge.
The first half proved pretty tough as we failed to wake up in time and let Hampstead & Westminster slip 2 goals in. We fought back against them and got a couple of shots on target but were unable to convert.
We came back harder and more relentlessly in the 2nd half though and pushed forwards with lots of drive. This eventually worked out well for us when Bethany played a ball into the D from the right and Vicki was able to get on the end of it after another touch from Beth, in order to get a goal! The last 10 minutes of the match we pulled on all our remaining energy to keep them out of our net and try our best to get another goal.
We couldn't make it happen in the end, but we played a great 2nd half against top of the league and should be really proud of it!!!
MOTM to Gemma Gatting for her strength and resilience at the back, as well as a great stint in RM!
DOTD to Bethany for getting into a really great position, making herself free, calling for the ball, receiving a great pass and then falling flat on her face…..
---
WH&E L2 4 : 2 Imperial Medics L1
The L2s were back in action on Sunday, and were straight back to winning ways with another convincing win, this time over Imperial Medics. The L2s are flying high in second place in the league!