WH&E L1 2 : 2  Eastcote L2
We travelled to Eastcote missing both our centre backs, our centre forward, our right wing and our left half. Fortunately, the ladies 2s weren't playing. Thank god!!!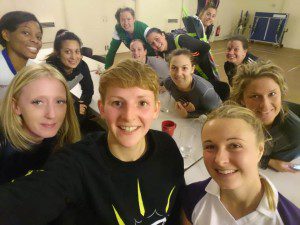 So Sula, Michkah Fisher, Kate Smith and Lucky Charlotte decided to spend their Saturday off playing against our top of the league. Needless to say, they didn't disappoint!
The first half was a very even half. Chances on either side with everyone giving their all but a sneaky short corner 30 seconds before the break gave Eastcote the lead.
We came back fighting in the second half with some lovely play up the right culminating in a goal from Michelle.
Eastcote regained the lead from another short corner – Charlotte saving the shot but we couldn't quite clear it. Some further sexy hockey from everyone on the pitch continued with an almost replay of our first goal saw Michelle hit the post. But we got the ball up the right again with another cross for Karen Goode to put into the goal.
We made it hard for ourselves at the end having to defend a short corner with 40 seconds left on the clock, but we survived to finish 2-2!!!! Against top of the league!!!!!
Massive thank you to the ladies who played up for us today! You were all incredible!
DOTD – Sula for trying to kill Sam!
MOTM – Karen Goode for her goal, running and the cutest celebration
Special shout out to Rachelle Alexandra for not sitting or lying down in the game…
---
WH&E M2 1 : 0  Southgate Tankards Y
The men's 2s returned to winning ways on Saturday, in a tight match against a very familiar Southgate Tankards Y. In fact, half the opposition team appeared to be the same as Southgate Tankards Z that we played a few weeks previously!
The game started brightly for Winchmore, with good interplay in attack from Grant, Asher and Dominic, leading to a couple of good chances which the Tankards keeper did well to keep out. And as the first half drew to a close, it seemed like another one of those days when the ball just wouldn't go in the back of the net! But our defence was equally stout, marshalled brilliantly by Michael Dutnall, stepping in to help out the 2s this week, and ably supported by Huw and Stan, with Balazs looking comfortable in goal. 0-0 at half-time.
Back out after the break and Winchmore immediately seized the initiative with a perfectly worked penalty corner switched back to Grant to sweep past the keeper at the near post – 1-0. And so it stayed, with the home side unable to add to the scoreboard despite several further chances for Grant, Asher and Thomas C which were somehow missed. This led to a nervy finish with Southgate pushing hard for an equaliser and earning a penalty corner in the last 5 minutes which was thankfully cleared at the post by keeper and defender combined!
A good all-round performance which should have resulted in a more comfortable win than 1-0. But a win is a win! ?
MOTM: Michael Dutnall – the rock at the heart of our defence
DOTD: Leo – for still being injured!
---
WH&E M1 3 : 2  Berkhamsted M2
Match report coming soon (maybe…)
---
No match this week for the Ladies 2s ☹