WH&E M1 0 : 0 Harpenden M2
On a day that was slightly (read at least 15°) colder than last Saturday, Winchmore Hill were replete with players (squad of 15), bolstered by the last-minute availability of Josh Rider and Joe Turmaine (which saved Craig Jackson from having to reprise his role as heroic stand-in keeper a la last season) and last minute arrival of John Lappin (delayed for as-yet-unexplained navigational reasons resulting in him getting lost en-route to our home ground…). A close game was anticipated, having drawn with Harpenden in a number of previous meetings.
Winchmore Hill started the first half strongly. James Gatting, Michael Dutnall and Matt Dray stroked the ball around the back, creating time and space for us to move the ball forward. The fine movement of Tim Mall, Harry Stone, Joe T and Colin Foad up-front, and of Jake, Rafi Zeff, Harry Franks and Craig in wide-midfield, created a number of chances, but none were clear cut and we weren't able to snatch a lead. Adam Machray picked-up a green card with 105 seconds remaining in the first half for his role as one of the slices of bread in a Harpenden-flavoured sandwich (coupled with a simultaneous stick tackle). The second half was a slightly different story, as Harpenden pressed higher and managed to get into the game a little more by disrupting our transition play.
Overall, this was a very strong team performance with some excellent ball retention and possession play, and one to build on for the rest of the season.
DOTD: Adam Machray for a bold fashion choice (wearing shorts backwards without realising) and/or being green carded (take your pick)
MOTM: Stuart Carrick for general tenacity and hard-work in the midfield
With special thanks to Graham Sparrey for helping us out with umpiring this weekend.
---
WH&E L1 2 : 5 Hampstead & Westminster L3
The score doesn't completely tell the story of the ladies 1s tough match away today, with an unusual formation to get used to including captain Bethany as GK rather than attacker!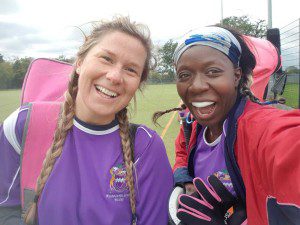 We started really strong, with a solid defence stopping loads of balls before they got near this rookie keeper. The determination after last week's match showed as we went 1-0 up fairly early on thanks to Sam Deane. A lot of battling between the 2 teams unfortunately led to 1-1 from a short corner which shortly after (but not due to) dick of the day Sarah E-Q trying to pick up the ball from the ground during play before remembering you're not really supposed to do that…
We fought back very quickly after and Gemma Gatting brought us to 2-1! Unfortunately, however, the opposition kept fighting and managed to slot a cheeky goal in the corner of the net! Then they got another one after a short lapse of concentration led to one of their players free in the D.
We started the 2nd half positive, drawing on our win from last week but unfortunately couldn't quite make it work. Rachelle Alexandra 's feet had a magnet on them this week which meant a good few short corners to defend against. Luckily Sarah's face was there to stop most of the balls…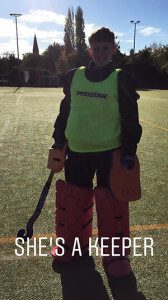 A couple of attacks we were unable to convert in the 2nd half meant for the final score was 5-2 to the Hampstead & Westminster.
MOTM: Bethany the stand in goalkeeper! Special mentions go to Gemma and Sarah who had a great day in defence, and Sam who had a great day in centre mid doing a lot of work. Shout out to the whole team for keeping your heads up the whole 70 minutes and pushing through!
Final shout outs to Dominic Smith for helping Shell get on the bus, and the umpire who stopped time when our novice GL was wriggling around on the ground hopelessly trying to get up in the GK kit ???
#hockeylife #hockeyfamily #thesegirlscan #keeperfortheday
---
WH&E M2 2 : 4 St. Albans 8
After last week's walkover we travelled to St Albans finding ourselves in joint 4th in the league.
So a pivotal day started badly with us being locked out from the school we were playing at! Still at least it allowed us time to work out a formation that included a centre forward ?
With Dom Smith being the lucky man we also pushed Eray in to an attacking midfield role to take the fight to them. This chaos theory bore quick dividends as in our first attack the ball broke to Dom who smashed it in to the roof of the net (just as mystic Joe predicted?)
Sadly for us, this all-out attack meant we forgot about defending and we immediately conceded a sloppy equaliser.
Undeterred we were soon back in front when Rob Dowling struck the ball past the keeper on a well worked penalty corner.
Then the whole course of the game changed with the home side scoring 2 quick fire goals that clearly should have been disallowed for a stick tackle and a foot in the D respectively. ?
Credit to all of us for keeping a lid on our protests.
A half time reshuffle included Eray dropping back in to a more natural position of right back. We were more structured and with our new boys Jude and Stan slotting in brilliantly to wide midfield roles we matched our hosts attack for attack.
Sadly we failed to convert any of our chances and paid for it when they scored a breakaway goal with 5 mins left.
A valiant effort where we probably deserved something but without a regular centre forward we lacked an end product.
MOTM: Balazs for many saves – All that practice is paying off ?
DOTD: Joe Small for a teenager tantrum with both umpires over a 16 hit out that led to him having to have a cooling off period on the sidelines. ?
---
WH&E L2 0 : 3 Ealing L2
The ladies 2s had their own TANGERINE dream today against Ealing. It was a game of 2 SEGMENTS: the first was a little disorganised but despite some JUICY chances they only SQUEEZED one in. Throughout the first half we found our feet and played some aPEELing hockey but unfortunately couldn't eek out any chances.
In the second half we played some ZESTY hockey but let 2 more in without reply.
Some JAFFAntastic performances across the pitch and from Freya back in goal. All in all, we were SUNNY DELIGHTED to keep them to 3-0!