WH&E M1 3 : 1 St Albans M5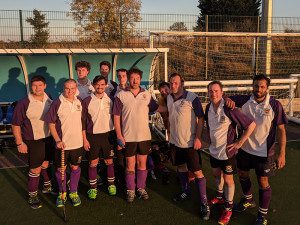 It was a bright sunny Saturday afternoon at St Albans home ground – the first team were looking for their second win of the season and the Tangerine Army were ripe for the picking. Our team was full of fresh haircuts not to mention Jake and John both arrived on time after participating in the BREXIT march, so a win seemed likely.
We started the match well passing and linking up nicely, both teams had some good passages of play. Then, in true Winchmore Hill and Enfield style the first goal came from a slow pass which, bounced off a few players sticks into the circle before arriving perfectly like a piece of pre-packaged fruit on a supermarket shelf for a St Albans forward to tap in without having to look. 1-0 #juicy
A couple of minutes later Adam found himself in the centre with the ball – he fired a pass to Tim on the attacking 25, who turned the fullback and created a two on one with the keeper. Harry Stone was with him as he slid a pass past the keeper which Harry calmly trapped and put in 1-1. Harry is known for scoring with tennis shots; he showed can score with more traditional hockey shots like a push #backboardbandit
We then attacked with fury, dominating the play and having multiple shots that either went wide or the keeper saved. The next goal for us came from a hard ball smashed into the circle from outside the 25 from Mike Dutnall which Tim Mall deflected into the net 2-1 #iwanttobelikemike
St Albans had their fair share of shots but Nick Smith wasn't going to let anything through, saving everything that came his way. Before half time our third goal came from a short corner, Jim Gatting put a textbook drag flick top right #nothingbutnet. The score was 3-1 at half time to us.
In the second half St Albans seemed to work out our play and really pressed us hard shutting down a lot of our attacking options. It became a defensive arm wrestle where our defenders showed their true class and strength on the ball. Harry Franks and captain Matt Dray showed cool heads and skill in the later stages off the match when all were tiring. Jim kept the ball moving out of defence and Nick Smith had a blinder saving around 10 short corners and everything else that came his way in the second half.
A 3-1 win and the Men's 1's are on a roll!
MOTM: Nick Smith
---
WH&E L1 2 : 0 Ashford L2
Sun's out, guns out!
Ladies 1s certainly showed 'em how it's done in the sun away against Ashford 2s.
A performance to be proud of – we played our own game and were strong from start to finish, playing sexy hockey with great 1-2s, calling and determination. Final score 2-0. Both goals in the first half to Beth Deane and Helen Fenning who deserved them after great runs.
Man of the match was tough this week as everyone put in such great performances but it came down to Helen and Gemma Gatting for great calling and running down the right hand side. In the end it went to Helen!
Dick of the Day goes to Beth for leaving her car keys on the driver seat of the car during the whole match. Ooopppss!
A well-deserved win to be super proud of, and I'm excited to build on this! ♥️
---
No games this week for M2s and L2s.