WH&E M1 5 : 4 Vauxhall M1
On a warm Autumn afternoon, Winchmore Hill welcomed a familiar Vauxhall team knowing what tricks they bring with them. The 1st half was very calm with Vauxhall getting the 1st goal of the game, with a deceiving shot that popped up with a wicked spin sending the Winchmore goalkeeper the wrong way. This sparked a reaction from Hill and with that we went on a scoring spree – 1, 2, 3 and 4 goals past the Vauxhall keeper, taking us into a 4-1 lead at half-time with some absolutely beautiful hockey being played.
The 2nd half was another story. Vauxhall came at us hard with some wicked balls over the top causing our defence problems. We dealt with their barrage well, but with some crucial decisions going against Winchmore, Vauxhall managed to drag back 3 goals, which made the game a little more heated and Winchmore uncharacteristically less disciplined than usual. In amongst all the controversy, Winchmore grabbed their only goal of the 2nd half, making the final score 5-4 and giving us our first win and points of the season. A great team effort from all, some amazing attractive hockey, and very entertaining from the sideline!
---
WH&E L1 0 : 2 Hampstead & Westminster L4
A sunny Saturday for the Ladies 1s at the weekend made for a tough, high-energy fight. With a mix-up to our usual formation, we fought off a lot of activity around our D in the first half but only managed 1 or 2 chances ourselves. In the end, the opposition managed to get the better of us to go up 1 in the first half.
The 2nd half we came out with more determination and managed to get a few more chances and had a bit more possession but unfortunately were unable to convert.
Final score 2-0 to Hampstead & Westminster 4s.
MOTM to Charlotte for some really important saves
DOTD to newbie Mel who stood on the ball and fell over on her first touch of her debut!
Onwards and Upwards! #hockeyfamily #thesegirlscan #whehockey
---
WH&E M2 1 : 3 Harpenden M4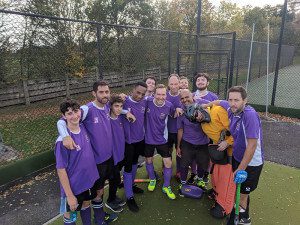 Amid unseasonably warm weather the Men's 2s played a spirited game away against Harpenden 4s. A neat first-time finish past the keeper by Asher Cohen put us in the lead and gave us confidence, but perhaps too much. Twice in the run up to half time Harpenden took the ball off us as we attacked, and, eager to score again, too many of us had gone up forward. Each time Harpenden were able to take the ball all the way back and score. Half-time result 2:1 down.
We seemed to position ourselves better in the second half. We had plenty of possession behind Harpenden's 23 with Grant Wisson feeding the ball efficiently up to Ricardo and Asher up front. Leo Fernandes, only playing part of the game due to back trouble, had an unfortunate missed attempt on goal. We had short corners, but were unfortunately unsuccessful in converting any of them into goals. Harpenden ultimately were able to get one further goal past us. End result 3:1 down.
Lessons for next time:
Arrive at least half an hour before the game starts in order to get mentally and physically prepared. Perhaps starting positions could be notified in advance of the game.
Maybe have an agreed limit on the number of us who are going to attack at any one time so as to avoid situations like today.
Try not to get sent off.
MOTM: Asher Cohen for his neat first-time finish past the keeper.
DOTM: Joe Small for uncharacteristically getting sent off.
---
 WH&E L2 0 : 2 Imperial Medics L1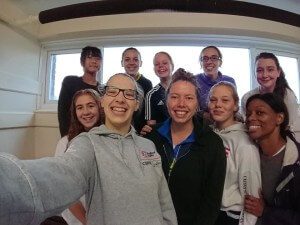 While the rest of WHEHC enjoyed their rainy Sunday afternoon indoors like all sensible people the Ladies 2s travelled to Harlington to play Imperial Medics.
Vice captain Lisa was gallivanting off with brownies but the return of captain Pippa from her travels bolstered the team made up of 5 incredible enthusiastic youngsters, Charlotte, Michkah and the Deane team.
If you read that correctly it does only make up 10!
Some incredible saves by Charlotte as kicking back frustrated the medics who with 3 subs posed a difficult challenge for the team of 10. Some amazing play from our juniors who showcased their brilliant teamwork and determination to make sure medics had to work for their win. In the end the extra players and presence of a goalkeeper just made it too hard for the team to break through despite some attempts by Abbi, Samantha, Eleanor and Michelle and tireless effort of Beth.
MOTM (as voted by Sam and Pippa) was jointly won by Charlotte and Louise for amazing defending throughout!
DOTD goes to Sam for hitting the ball into the lava….
#10manteam #jetlagged #sidelineislava