WH&E L1 2 : 2 Wapping L4
The drama of today's ladies 1's game matched the setting. Down at Lee Valley Hockey Centre (think Olympics) we began what ended up being a pure rollercoaster of an hour and a half. The first half we dominated most of possession with Evie and Karen holding strong in the midfield and stretching our play out wide. Defensively Sarah had a few brilliant interceptions and Gemma and Beth were strong out wide stepping in front to intercept and making beautiful runs down the left and right sides. We had quite a few chances in their D but were unable to hit the back of the net, as they only entered our D maybe twice, giving Charlotte not a whole lot to do. Karen and Vicki were relentless in their tracking of players and being options in front of their players.
The second half brought all the drama. We started strong and after a beautiful run down the left wing from Beth, the ball came strong into Evie, who deflected it onto Bethany's right side. B finished it off beautifully and that was 1-0. We stepped it up for a total of 30 seconds and then had a defensive short corner that scrambled and ended in the back of our net. Charlotte may have kept us in it with one of the best saves we may have seen as a deflection was heading top corner but thankfully Charlotte had the height to knock it down.
Wapping then somehow got another short corner and another scramble led to them scoring again, now up 2-1. The umpire says 4 minutes remain and we are all on edge after playing such a strong match as a team we really didn't want to have a L to show for it. After some strong play defensively to get the ball up into their D, Bethany put a ball onto their foot and the pressure was on. Shell certainly didn't want to mess up the pull out, but it was clean and a beautiful stop from B and Sam smashed it bottom left corner! The whistle blew shortly after ending the rollercoaster game at 2-2.
Player of the match: Beth for strong defensive play and beautiful runs down the left wing getting the ball into their D.
Dick of the day: Whoever forgot the balls!
WH&E M1 2 : 2 Wapping M7
The men's 1s made the trip to another new venue this week – John Orwell Sports Centre in Wapping, for what looked set to be a session of crown green hockey!
Injuries and illness forced a few last minute changes, with Luke Trevill kindly stepping up from the 2s at the last minute to ensure a squad of 12.
In a fairly even first half it seemed that Winchmore had the better of the chances, only to find ourselves somehow 2-0 down after a penalty corner on the halftime whistle.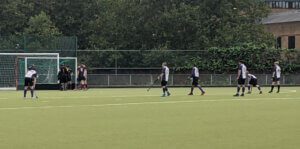 But, a confident team talk from stand in skipper Jim Gatting gave everyone the belief they needed to come out fighting in the second half. And within 2 minutes we won a penalty corner which was duly dispatched by Colin Foad (although perhaps not our slickest routine!) to make it 2-1, before Colin slotted his second to make it 2-2 which is how it finished.
A well-deserved point and a really resilient team performance, where everyone dug deep for each other. Congratulations to Aidan on a quality 1st XI debut, plus other notable performances from Jake T at centre back, Asher for controlling the midfield in a very mature way, and Stan for a super effort on the right side of midfield making quality runs and some excellent crosses.
WH&E M2 0 : 1 West Hampstead M7
Non-ideal preparation for the game saw our team-sheet of 14 reduced to 11 at push back (and 12 shortly after), with Luke being press-ganged for the 1s at late notice, and 1 no-show. We had the better of the first half, with Adam bossing midfield, and we forced a handful of short corners, sadly all saved by the keeper.
The second half saw us tire as they used their substitutes well, and we lost shape a bit shuffling positions around to cope. Things were still even, and anybody's game, with both defences looking solid, especially Eray at the back for us, and it remained well umpired even as both teams got nervous, and more vocal(!) as the minutes wore on.
However, a short corner in the last couple of minutes for West Hampstead saw a flick towards the post, and a runner connecting at chest height to knock into the goal. A draw would have been a fairer result, but perhaps an indication that our attacking short corner routine needs a bit more work/creativity…
WH&E L2 2 : 4 West Herts L4
At last, the ladies 2's had a home game and enjoyed a bit of a lay in on a Saturday! Although nobody was expecting such a wet and soggy match!
The game started slowly with some of our players getting used to playing in slightly different positions. We were definitely on the back foot as the opposition played well as a team making accurate passes and getting into good positions off the ball. They were 2-0 up but just before half time Kylie made a fantastic run down the line taking on and passing several players before passing it into the D to Abbi. 2-1 half time.
The second half we played some better one, two balls to one another and managed to get a couple of short corners (excellent, as part of our warm up was running a few!). Kareen injected the ball with speed to Jodie who made a powerful strike, which was deflected in by Kareen over the goal keepers head, what a goal!
Still awaiting a win but with a week off and some more training under our belts, there is still hope!!!