WH&E M1 3 : 2 Broxbourne M3
Clearly this year has been different in so many ways to all others. And perhaps it has been for WH&E M1's too. A start to a season with 14 players for each game. Unheard of. Not this year. With a draw and then a narrow loss last week, this fixture offered a chance to start winning ways perhaps earlier than 'Purple Power' normally manages in a season. This opportunity was Broxbourne.
WH&E's team set up strongly and pressed Broxbourne hard reversing the more customary pattern in previous games of Brox possession and WH&E seeking a breakaway. Brox weren't quite sure what to do. An observation from Jim Gatting that they were probably over drilled translated into Brox being unwilling to pass to a marked man. Since WH&E were marking every man diligently, Brox had no passes to make. However, despite WH&E dominating, about 15 min in and against the run of play, they managed to break away, obtained a short corner and scored.
Nevertheless, WH&E continued the pressure, and this paid dividends, with Asher Cohen on the right receiving the ball, dribbling and then placing a shot to score.
A couple of Brox players were good dribblers too but they weren't able to make this count due to the strong closing down from the midfield and defence including by Dominic Smith, Matt Dray, Stephen Lopez and Stuart Carrick.
With the trusty 'orders' written on the now fabled piece of paper, akin to some military manoeuvres, those on the sideline had the chance to run the subs which worked well with the game now broken up in segments with players getting their chance to shine.
WH&E were able to continue attacks and a series of 1-2's opened up Brox with good play down the left and right, and Michael Dutnall making his now familiar runs to the 23m line. A move ended in Sam Turmaine shooting and scoring, but the umpire blew the whistle just before it hit the backboard.
WH&E were creating chances and the pressure continued and a short corner saw the ball flash across the 'D' coming off an opposition stick for Jake Sumner to reach out his stick and guide the ball goalward but for a Broxbourne leg to block it heading into the net. A flick was given, and Colin Foad stepped up and slotted home. The whistle blew, and WH&E headed into the break 2-1 up. Well deserved.
The second half began, but WH&E couldn't find the rhythm of the first half and for the first seven or eight minutes couldn't get out of the half. The pass or touch not quite going to plan. However, the defence remained strong, despite a couple of occasions seeing the ball dangerously pass across the goal line.
Just as Brox scored against the run of play in the first half, perhaps WH&E did too with a shot from Harry Stone. The period of play then moved into one which saw both sides attack and defend. John Adam Elliott Lappin played an excellent ball into the 'D' from just past the halfway line, but it wasn't converted. At the other end Jim Gatting made some excellent diving saves.
Then came the final six to seven min and WH&E began to tire. KP, formerly of WH&E, managed to get away from his marker and score. It was 3-2 with two minutes left to play. The 1s managed to playout with Stan Knight receiving the ball and pressing for an attack in the final seconds.
The whistle blew and a well-deserved win and three points. WH&E M1's games to date have seen two goals in each conceded. If we can get some clean sheets and keep scoring we should be odds on for more victories and who know what the year will bring? Could the victory this week set the standard ahead?
---
WH&E M2 3 : 2 West Herts M5
With a strong team playing, including Adam and Luke helping out this week, we knew it was going to be an exciting home game at Southbury. Despite the recent change of home ground, we got off to a good start, and with a few fantastic chances from Luke, we were looking very good up front with the prospect of a few goals likely.
Around halfway into the first half things picked up even more and Theo slipped one in at the post to make it 1-nil. With everyone continuing to play well and get into good positions, Adam hit one from outside the D towards the far post and Theo got a touch on it to make it 2-nil.
The half time whistle was blown, and with everyone in high spirits the second half commenced. Unfortunately, even with a few superb saves from Balazs, and brilliant defending from Joe, Stuart and Ellis, West Herts made it 2-1 early on in the second half.
Even with spirits dampened slightly from conceding, we continued to play well and get chances, with Luke and Johnny coming especially close. A goal soon happened; a rebound off the keeper from Luke's shot which was pushed in by Johnny, to make it 3-1.
Towards, the end of the game, however, the chances began to lessen with a desperate press from West Herts, and they were eventually able to get one back with two minutes to go. We held on well in the final moments of the game and the whistle blew 3-2, the first win of the season for the Men's 2s. ?
---
WH&E L2 0 : 6 PHC Chiswick L4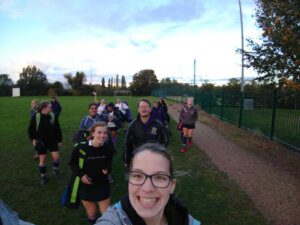 Not all appeared as it would seem in the ladies 2s game this week. Both captain and one of our vice captains there yet something did not look right – their clothes! They stood ready to watch and support in their normal attire after injury and opportunity knocked for them respectively. Ellie had made her 1st team debut in the early morning!
For the first 20 mins of the game we looked the better team although as time proceeded, we seemed to enter a hall of mirrors, with blue shirts appearing to fill the pitch and pressing hard. The defence battled hard to break free and the midfield helped relieve the pressure as waves of blue continued to bombard.
Looking to the forwards for inspiration, some darting runs allowed us to break yet conversions did not come. Something tainted our vision as Lisa tried again to score in the wrong goal and Anju tackling a players' legs….
Throughout the game there were flashes of brilliance, great play and teamwork. For the ladies 2s it seems again that when we look at the reflection of our game, the mirror we look in is covered in a layer of dust – the score line did not reflect.
---
WH&E L1 1 : 4 West Hampstead L2
Following an unlucky head injury to one of the opposition's players, we were asked to quit the game and leave the score as it was.
We said absolutely not, and immediately picked up the pace and urgency and pushed ourselves. We had several chances, and a short corner won by Bethany ended up in a goal from Sam Deane!
The West Hampstead players were shooketh!
We won those last 14 mins of the match 1-0…
During the rest of the match before the injury, we had multiple chances, several short corners, another of Karen's cars broke down (?), and we actually had a sub! Unfortunately, we didn't score from any of those chances but West Hampstead scored from 4 of theirs….
Thank you to Ellie Bolton who played her first 1s match for us and did a brilliant job ?. Well done to Rachelle Alexandra who did a great job at centre back pushing up the pitch to help us create chances up front.
And well played to everyone who kept pushing until the end. We're getting used to playing on a full pitch again, so our first win of the season is definitely coming soon!!