WH&E L1 1 : 0 West Hampstead L2
Last match of the season for the Ladies 1s and we were up against West Hampstead, the team we've been battling against to stay out of relegation.
Our aim of the game was to win, but have fun as it seemed we had nothing to lose, with West Hampstead having a game in hand over us against the bottom of the league who hasn't won a game this season.
We started very positive and were pretty slick, with great passes up the pitch, excellent 1-2s, and moving off the ball.
About 5 minutes in, Beth Deane made a great run up the pitch and won us a short corner which Samantha Lucy smashed into the back of the net. Lovely goal for the DeaneTeam!
Sam kept going strong and held us up brilliantly in CM to create more chances, but we couldn't quite get ourselves another goal.
In the 2nd half, West Hampstead were fighting back a lot and we began to panic which led them to get a few short corners and shots in. Luckily Player of the Match Talyssa Mensah defended strongly and even saved a goal off the line to keep us in the lead until the final whistle.
No dick of the day because Rachelle was normal this weekend!
1-0 to WH&E at full time with a win to be proud off. We currently sit only 2 points above West Hampstead in the league and eagerly/ nervously await their result next weekend.
…….
Thanks to all who have come and supported our matches this year in all kinds of weather! We've really needed it and it's always massively appreciated.
Thanks to all the 2s, special guest players and GK Freya who have played for us during the season, you've all been so valuable and done exactly what we've asked of you each time we needed you.
And massive massive thanks to my ladies for fighting and staying positive ?? ♥
#theevengreatergreatestgreatescape
---
WH&E L2 2 : 1 Harrow L3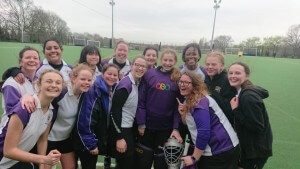 After 2 consecutive weeks of disappointment, we were up against 3rd place Harrow. (Such a formidable opponent made Romy's agreement to go in goal even more brave/crazy!?)
We started well with several shots just the wrong side of the posts but we're unable to make them count.
Just before halftime Pippa Deane hit the ball up the pitch from a 16. Legs Abbi chased it all the way to the baseline and crossed to Ellie who finished it off in style. 1-0 WHE!
Harrow had a bit more play in the second half and got several short corners, but some Winchmore defensive heroics kept them out! Romy our super-stand-in goalkeeper made multiple saves and Lorna Robertson, Pippa Deane and Lucky Charlotte cleared the line again and again! Eventually though we were undone by a well worked short corner where the ball was slipped to the right and swept into the far corner.
We battled well to the end and were rewarded when in the dying minutes Michkah Fisher slotted one through the goalkeeper's legs. A well-deserved 2-1!
We must mention our DOTD winner Sula for turning up stickless having to borrow. Although the more creative idea of a relay baton stick was also floated!
---
WH&E M2 2 : 1 Southgate Tankards Y
The M2s arrived on a windy day at Southgate knowing only a win would do to keep up the promotion dream.
Miraculously we had 13 players by the time push back arrived, surprising given the late messages as we discovered the game was at 3pm not 16:30 as we first thought!
Winchmore started well and put real pressure on Southgate however Southgate were looking to catch us on the counter attack. Gavin Kay marshalled the defence into action and made several last-ditch tackles to keep the scores level.
Winchmore took the lead thanks to Tim Mall who found himself playing for the 2s due to work commitments.
Despite having just scored a fantastic solo goal Tim was furious that it had taken him over 40 minutes to put the ball in the net!
Southgate rallied and put Winchmore under pressure eventually breaking through and levelling the game with a well taken finish. This set up an exciting final quarter with both sides looking to take the win. The away side kept up a barrage of sustained pressure however Southgate held firm.
Eventually Tim once again took the ball into the circle with 4 defenders surrounding him. Despite a clumsy tackle chopping his stick and putting the ball onto his foot, Mall hit the backboard. As Winchmore celebrated both umpires came together to confer eventually deciding the goal should stand.
The win sees the M2s in a promising position however promotion will depend on the result of Southgate Z vs St Albans 8 on Saturday morning.
Thanks to Dominic Smith, Balazs Endrodi, Rafi Zeff and Harry Stone who came down to marshal the subs and offer support!
---
WH&E M1 0 : 7 St Albans M4
No match report, yet…