WH&E M1 4 : 1 Bishops Stortford M3
Late cancellation of events meant we had a last-minute complement of 11 players with Jake Sumner joining us. Onwards to Bishop Stortford.
A very good start with an early goal after some nice passing moves finished off neatly by Luke Trevill.
Goals then dried up but possession and passing remained reasonable although the early goal led to some complacency. Bishops Stortford made some breaks and earned a couple of short corners. 1-0 up at half time.
We pulled ourselves together and decided to up the intensity. Asher and Harry dropped into midfield allowing Colin to push up. Colin earned himself a goal and supported Jake and Luke up front. Luke smartly finished twice in the second half to complete his hat trick.
Stortford finally piled on some pressure with help from the umpires – green for Matt followed by yellow for Dom, a few dodgy short corners too. Eventually a goal line foot at a short corner led to a penalty stroke. Jim who had been strong in goal came close but Bishops Stortford undeservedly scored from the flick.
Good result. Final score 4-1 win.
---
WH&E L1 0 : 2 Old Merchant Taylors L1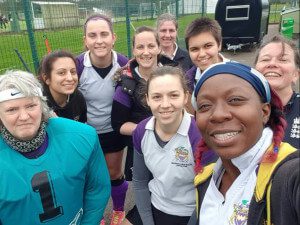 So bottom of the league you say?
A win or draw puts us in safety you say?
11 players you say?
Well you've got it in the bag then, right?
Wrong!
3 players down for the count with coronavirus knocking on their doors meant we were down to 8. But don't you worry, we had 2 players from the 2s, no wait, make that 1. So 9…
The ladies 1s showed exactly what hard work and team spirit is this week. No one dropped their heads no one gave up and no one stopped believing we could win this against 12.
Karen played like she was possessed, the lone striker upfront through on goal, yes it's in! No wait, she shoulder-barged the defender to play the ball, no goal. Then with 5 or so minutes of a tough half OMT snuck one in. But it didn't end there; second half starts Karen again playing possessed (claiming she's sick too but not coronavirus) made the run of a lifetime and with Karen Goode with her we looked to equalise….NO it just missed the goal, hitting the side netting…then Sula decided to crawl on the floor and do a backwards roll, it was beautiful and an incredible display of acrobatics ?
A 2nd one slipped in as they finally realised that 11 v 9 meant they could overrun us in defence, somewhere along the way Caroline Briers taking a stick in face, but not to let the team down she soldiered on.
Some dodgy decisions by a guy in yellow meant Sam ended up off the pitch with a green for not taking the opposition player out…
In true Ladies 1s style we ended on a defensive short corner defended well and keeping the score at 2-0. A 10th player would have made all the difference, stretching their defence to breaking point, a full team would have been a certain win.
MotM – Karen Gray – for playing 3 positions at once and doing it amazingly
DotD/PotP – Karen Gray – trying to get herself a green at the same time as Sam by shouting "seriously!!!" As loudly as possible…
A tough fight, coronavirus the ultimate winner…
---
WH&E L2 0 : 5 Teddington L6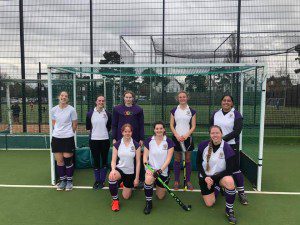 Despite being a bit thin on the ground (the umpire asked if we were waiting for another car?) we had a great game. Everyone played excellently and Teddington were frustrated that they couldn't dominate as they would expect to against 8.
Unfortunately though a 5-0 loss sees them leapfrog us in to 2nd and we ended the day in 4th.
Special mentions to Pippa Deane and Erin at the back and Romy in goal for clearing far more than they let in and of course Kate Smith for being everywhere as usual!
---
WH&E M2 1 : 9 Hertford M4
Continuing the theme of playing hockey with fewer than 11 players, the men's 2s lined up against a strong Hertford 4s with 10 after a late injury.
They were a strong team, well organised, and especially strong in attack. Our young centre midfield pairing (Haydn and Ellis) did a great job, launching us on some strong counter attacks, whilst Balazs did an equally sterling job in goal limiting the damage.
We did get a few short corners, and from one of them Huw got his first ever goal in competitive hockey, with his strike skimming the top of the backboard.
The second half started well, with Winchmore firmly on top and providing a lot of threat, but sadly no goals. Later on we got a bit tired and they came back strong. The final score was 9-1 but a decent performance by a young team in a tough league.
MOTM: Haydn dominating midfield. Nice stuff.