WH&E L2 0 : 0 Imperial Medics L1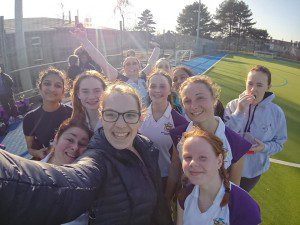 Players taken, players injured, players moved so far up the pitch that altitude sickness was a real concern! Pushing hard and playing a full court press saw Pippa Deane up in centre mid and Ellie leading the charge at top diamond.
Medics caught off their guard with our pace and space meant that we controlled the mid with Kate Smith and Hish keeping the balls moving out wide and forward.
Solid defence ensured that all moves were covered and turned to our advantage. Although you know things aren't going right when the umpire starts laughing at your bottom diamond for receiving a perfect pass to top D unmarked with both your feet Lisa Jobson… Definitely DOD worthy, and if that wasn't the tantrum that followed was!
After a full game of battles, mostly in their half, the game finished nil-nil. Medics goalie covered her goal and kept us out. Close calls with good strikes coming from all members of the team (Ellie, Kate, Pippa, Gem, Hish)
---
WH&E M2 3 : 4 Potters Bar M4
After heroically coming back from a 5-1 deficit for a 5-5 draw last time out, the Men's 2s travelled to Potters Bar with a simple mission plan: "let's just win".
The M2s started strong, gaining short corners by pressing and with positive up front play but fell one nil behind on the break. They pulled one back and had some good individual play through the centre of midfield, but the team couldn't quite knit it together and fell behind again to goals on the break.
The second half brought improvements, and the M2s traded goals with Potters Bar to bring it back to 4-3 but couldn't level the scores. With both teams going for a crucial goal, passions ran high and the game ended with the M2s two players down and resolving to do better next week.
---
WH&E L1 1 : 3 Eastcote L2
No match report…yet
---
No match for the M1s, who return to action this week.