WH&E L2 4 : 1 Imperial Medics L1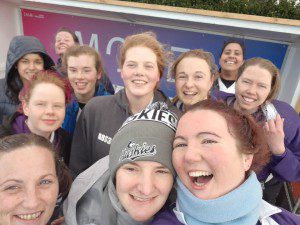 The ladies 2's set off early to Harlington. We were all very put off by the rain but luckily it blew over before pushback. Gem Luckman quickly put us ahead with a lovely short comer that takes her tally to 6. This was followed by some beautiful play and passing but we have to mention Gemma D's amazing defensive run to keep the ball on just to pass it across our goal!! Half time 1-0.
Just after halftime, Sonya scored a great goal that the 'keeper got a glove to but couldn't keep out. She did cause a moment of confusion by not celebrating. 2-0 So far so good HOWEVER… almost immediately they scored a very "unfortunate" goal – some of us thought she was outside the D; some of us thought it was going wide; but we all watched it slowly curve inside the post. (Their celebrations implied they saw something different) Gem L had a tantrum and decided to throw her stick.
We refocused and looked for a reply. Ellie scored a lovely goal leaving Abbi very sad at being the only forward who had not scored (yet). But don't worry Abbi fans – all that was about to change; after a strong fight we won the ball, Kate Smith had a lovely run up the side line, passed the ball to Sonya who unfortunately missed but Abbi was there to back her up and pop in her 22nd of the season.
Thanks to Caroline Briers for stepping down to hold our backline solid as well as bringing her magic score predictor, Jack who called it as 4-1 before we even stepped on pitch!
MOTM: Sonya for confidence and composure in front of goal
---
WH&E M1 2 : 6 Hertford M2
After the half-term break (for some), the men's 1s returned to a more normal line-up for the away trip to Hertford. A tight first half brought two goals – the first for Hertford from open play, which was then cancelled out by a well worked penalty corner that was cleverly disguised to make it look like it had gone wrong (?), only for Colin Foad to calmly find the bottom corner.
However, ten minutes of madness after half-time saw Hertford rattle off 4 quick goals with a high press paying dividends. Nevertheless, Winchmore gained their composure and before long started to create more chances of their own – Colin Foad then sliding in at the back post to finish off a cross from the right side, and then Josh Lewis taking advantage of more Winchmore pressure to bring the deficit back to two. Despite more pressure and chances, we ran out of time to recover the deficit. A good performance apart from the ten minutes of madness.
MOTM: Leading goalscorer Colin Foad with two more goals.
---
Other Results:
WH&E L1 1 : 2 PHC Chiswick L2
WH&E M2 1 : 9 Harpenden M3