WH&E M2 1 : 4 Southgate Tankards Z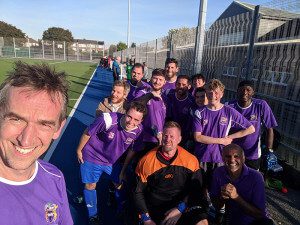 M2's faced a much improved Southgate Tankards Z side. The inexperienced WH&E side were punished early on for their sloppy positioning with Southgate taking the lead inside 10 minutes and doubling it shortly before half time.
With 15 minutes remaining Joseph hit the ball from the top of the opposition D allowing former Southgate youngster Asher to hit the ball home from close range making the score 2-1.
With Eray called up from defence to try and grab the equaliser Winchmore were exposed at the back and a hit from inside the Southgate half found their forward who put the ball past the diving Josh to make the game 3-1. In the dying seconds Southgate scored again to make the game 4-1, the result flattering Southgate who although the better side did not dominate the game as the scoreline may suggest.
Despite their first loss of the season the M2's have shown lots of promise and further games together should see the team get used to playing together.
MOTM: Asher – solid performance and got his first WH goal.
DOTD: Leo – Shouting at Lisa not realising the decision had been given our way.
Next match: WHE M2 v Potters Bar M4
October 6, 2018 @ 1:30 pm
Home (Aylward Academy, 1 Windmill Rd, London N18 1NB, UK)
WH&E L2 0 : 6 Teddington 5
With a captain off galivanting across the Atlantic (love you really Pippa!) and the VC still with her umpiring hat on, the Ladies 2s had a slightly shambolic start to the day. A well-drilled Teddington team slotted 3 past our keeper in the first 5 minutes. Ouch. However, we rallied round and decided to start marking and made it really hard for Teds to score their 4th goal. With super sub Lorna coming on in the 2nd half, shoring up the defence, we battled hard and ended the game on 6-0.
To be honest I can't really remember the details but I do know we showed some great determination and grit. The Ladies never let their heads drop and we improved throughout the game, really frustrating a team that beat their oppo 10-0 last week.
A special welcome back to Michelle and thank you to Charlotte for stepping up to play in goal as well as Dominic and Bethany for umpiring for us.
MOTM to Kate for being everywhere and never stopping.
Next match: WH L2 v West Hampstead L5
October 6, 2018 @ 12:00 pm
Home (Aylward Academy, 1 Windmill Rd, London N18 1NB, UK)
WH&E M1 0 : 7 Potters Bar M2
Winchmore entered the match after a 4-3 friendly win over the same opponents two weeks earlier, but Bar started this game looking far stronger.
Early on, Winchmore were guilty of allowing Bar to turn over possession easily in their own half and they grabbed three quick goals. Dutnall had a lot of work to do at centre-back chasing down Bar's pacy forwards and helped to keep the scoreline down. Dray left the pitch early with injury, leaving Winchmore with no substitute options.
A further breakaway goal and a mishit strike added two more for Bar. Their dominant first-half display resulted in a 5-0 scoreline at half time.
Winchmore had nothing to lose in the second and started well. Foad did an excellent job of holding up the ball and there were some excellent exchanges with Sumner and Stone that led to short corners and attempts on goal.
A stick check early in the half resulted in a penalty flick for Bar, which Smith saved low to his right.
Carrick continued to find energy as the half wore on. He and the returning Lewis were able to keep the opposition at bay in the centre of midfield for prolonged spells. Meanwhile, the versatile Jackson played in several positions and gave an excellent account of himself in his first game of the season, while Lappin and Cunningham kept up their running tirelessly.
The whole team showed grit to continue at high pace with no substitute options.
Major plaudits for man-of-the-match Franks, who was constantly absorbing pressure and starting attacks.
MOTM: Harry Franks (all-around solid display)
DOTD: Matt Dray (groin injury)
Next match: WHE M1 v Bishops Stortford M2
October 6, 2018 @ 4:30 pm
Away (Hockerill Anglo-European College, Dunmow Rd, Bishop's Stortford CM23 5HX, UK)
WH&E L1 0 : 3 Hendon & Mill Hill L1
An unexpectedly hot day yesterday meant the Ladies 1s faces were more more red than usual in their 2nd match of the season.
A tough game all round against a strong Hendon & Mill Hill Team. We fought but unfortunately couldn't bring anything to fruition. And a couple of unlucky moments meant we were a goal down and facing a flick. Man of the Match Charlotte Lucky who was kindly stepping in as GK while Chris Putt is unwell, faced the challenge brilliantly but unfortunately we went to 2-0 down.
A couple of injuries meant a lot of movement of players on the pitch but the team worked really hard and kept going until the last whistle. Final score Winchmore Hill 0 – 3 Hendon.
Dick of the day to Karen Smith for forgetting how to take long corners and then leaving all her stuff on the pitch after!
Big shout out to superhero Lisa Jobson who umpired, played, then umpired again. Big Thanks!!!!!
Onwards and Upwards!!!!
Thanks to the spectators who came to watch yesterday x
Next match: WHE L1 v Staines L1
October 6, 2018 @ 2:00 pm
Away (Staines Hockey Club – Worple Rd. Laleham, Staines, Middlesex – TW18)