WH&E M1 1 : 2 Hertford M2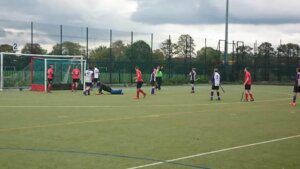 It was back to reasonably familiar territory, certainly for the older players, for this match against Hertford 2s at Southbury Leisure Centre.
The Men's 1s had 14 players again and a clear idea of how to deploy the subs with a now conventional midfield switch for the first half but a rapid rotation of forwards for planned whirlwind attacks in the second.
Hertford tend to deploy well-organised and well-drilled teams, but Winchmore hoped to translate home advantage to build on a reasonable, opening draw the previous week and secure an early league win.
It was not to be. Superior organisation and pressing in the first part of the first half were engineered from the back by Stuart Carrick, while off-field Jake Sumner brandished a master plan of written instructions and appropriately Machiavellian secret formations.
Yet quick confident passing across midfield and high pressing were not matched by astute final balls. Passes sometimes lacked a little bit of speed on the damp surface and once again the side perhaps may need a hockey clinic to remember how to be more clinical in front of goal.
Having failed to press the advantage, a few gaps, a few missed balls and Winchmore invited pressure, which eventually led to a break on the team's left flank and a Hertford goal from a short corner. Admittedly the umpire must have believed that one of those poltergeists which Enfield is famous for had hurled Matt Dray to the ground…?
James Gatting had to make a few saves but given the strong start it should not have come to that. The first half ended with Winchmore remaining one nil down.
The half-time talk saw the captain and several other players assert that we should simply not be behind.
Indeed, for large periods of the second half, Winchmore seemed poised to do something about that. The opposition goal came under siege. Whether the planned whirlwind blew, Winchmore saw a succession of short corners, a wide selection of strategies were tried out with the opposition goalkeeper spending more time on the ground than on his feet, though he was capable of frustrating at least two attempts to lift the ball over him and as many as a dozen follow up shots.
Alas, one break, saw Hertford score again and from then it appeared that Winchmore had left it too late to stage a revival.
Six minutes from time, a goal came from who else but Colin Foad – later to receive not one but two cups in a salubrious awards ceremony in the rain down by the side of the leisure centre (?). The goal was a suitability wily number, side on to goal on the reverse and one that finally placed the ball to the side of the keeper, not one thumped into his pads.
The team must find a way to feed better balls to Foad, and/or the supporting cast must score more themselves, otherwise Saturday nights in north London will continue to be haunted by matches that 'should have been won'.
MOTM: Michael Dutnall for an all round stellar performance
---
WH&E L2 1 : 8 BA Hayes L1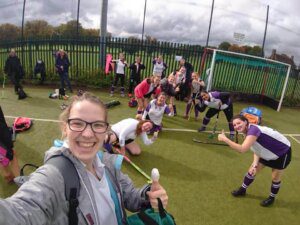 We put into practise the saying "many hands make light work" by setting up our new/old home pitch from rolling goals in place to inspecting a questionable surface (but very grateful to have a home!). We were ready.
After a thumbs up from the umpires the whistle was blown. BA Hayes started well and soon scored after several attempts of getting through our handy defence. Romily almost got her finger tips on it (or did someone else…!). Unfortunately we were 4-0 down at half time after Lisa Jobson handed them an own goal and a harsh flick given after a clearance from Gem Louise.
After refuelling on chocolate fingers (oh wait, no squashies) we came out fighting. We had some great attacking play with short sharp passes eventually converting into an assisted goal by Lucky Charlotte and yes, first goal on the scoreboard for Abbi!
Final score was a loss of 1-8 but played well as a team despite several injuries during the match, with a ball to Louise's head and a fractured thumb for our very own captain thumbellina Pippa Deane we can take many positives from the match…..
Thumbs up all round!
---
WH&E M2 1 : 2 Letchworth M6
The enticing prospect of a 5pm start, away at Letchworth, left the Men's 2s with a bare 11 to take on Letchworth 6s. Those 11 turned in a strong performance, with solid defending, good link-up play and runs, but just an inability to translate pressure into goals.
There was controversy for the first goal, with the Winchmore team convinced it had gone off the back line, but the umpire less so, and old comrade Grant, playing for the opposition, waiting to put it in from 2 yards out. The umpire wasn't willing to change his decision, however nicely Joe asked (?), leaving us 1-0 down at half time, and temporarily playing with 10.
But a lovely break by Tom P down the wing and a cross from the byline saw Johnny Molloy put in the equalizer and the game was back on… With players on both sides tiring, there was more space in the middle, and more breaks and subsequent short corners for Winchmore, but no conversion. And sadly, at the other end, a late, and rare, short corner saw Letchworth take the lead again, with Guy just unable to keep it out at the post.
Lots of positives to take away – I'd say at least half the team put in one of their best performances I've seen – and high hopes for our first home game of the season next week.
---
WH&E L1 0 : 9 Ashford L1
The day started off with 2 broken down cars, 2 niggling injuries, and 1 driver not making it to the match at all!
That left us with 11 players and no subs!
Ashford were really well drilled and very fast. They came at us strong from the off and scored a few goals in the first half. Nic was making some amazing saves at the back and our defence was doing a lot of work to defend the goal as much as possible whilst unfortunately up front we weren't able to convert our short corner or other chances.
In the 2nd half, Ashford scored less goals than the first and we had more attacking short corners and more chances but were unable to convert again. We fought until the very last moment and the undisclosed scoreline definitely does not reflect the level of hockey we played but today wasn't our day.
Player of the match to Nic in goal who made many crucial saves including some amazing stick saves. Honourable mentions to the defensive line and particularly Charlotte Ellingham whom the umpire praised for having one of the most powerful hits from the back he'd seen!
Dick of the day to Beth Deane for stealing Mia's stick, making Mia think she'd left it at Ashford!