WH&E L2 1 : 1 Eastcote W4
After a moment of panic that we were at the wrong pitch (playing Eastcote where we usually play Christmas Trees) we started all guns blazing with some real attacking play. Unfortunately, this left us open and we were caught on the break quite early on. For the rest of the half, we had a lot of the play and got the ball in the D but weren't able to convert any chances.
Into the second half…the ball was played from defence out to Bridget in the midfield who made a great forward run before slipping it to Charlotte on the (Ben White) overlap. Charlotte ran to the base line and crossed to Alice on the back post, her shot rebounded out to Kate who put it away for a well-earned leveller.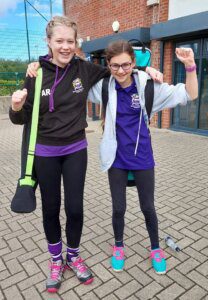 Both teams tried hard to get the goal that would push us over for the win, but Freya denied them with some fantastic saves – even trying to hide the ball in her pads. Meanwhile, Sula caused a pile up in the middle of the pitch – exclaimed for everyone to hear that it was "no her fault".
Following several more attempts, fantastic runs and passes but sadly no more goals.
Ending with a 1:1 draw. Not bad for the second game of the season, with impressive games for two of our juniors that have recently graduated to senior hockey – welcome to the team Alice and Harriet!
WH&E L1 3 : 3 Richmond Ravens
The Ladies 1s turned up to their first home game thinking it would be freezing, turns out it was so warm our umpires decided that t-shirts were optional under their umpiring jackets.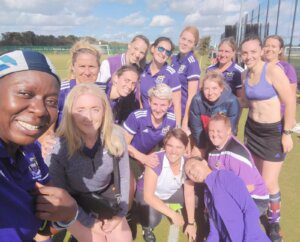 We started strongly, linking up well across the pitch. A pass in from Sam to Bethany who had no idea where she was on the pitch resulting in a beautiful goal.
Richmond quickly came back but I don't remember how, maybe a short corner? Maybe not, who knows.
A few more interceptions and runs resulted in a cross reaching Abbi who neatly passed to Bethany to score a 2nd. A 3rd coming from great composure by the captain to receive the ball facing away from goal, turn and neatly slot it past the keeper.
Then the 2nd half started….we forgot to start with it and Richmond quickly took it to 3-2. More of the same, some missed chances from lots of people, Vicki diving in to pass the ball, birthday girl Karen diving just to prove she still could at her age 😉.
A very unlucky moment with 2 minutes to go saw Richmond sweep a reverse just past Nic in goal to level the scores. And despite a last-minute run we weren't able to bring it back and had to settle for a point.
Although I'm reliably informed it was better than last week. And we've started our point scoring campaign!
WH&E M1 4 : 0 East London M4
Well, the lads put in another stellar performance again, showing how good preparation and game readiness can lead to big results in the first half. Much like last week, the first half saw the M1s off to a flying start with goals aplenty. We held a strong high press for much of the game which led to many turnover opportunities, dictated skilfully by Dom Smith, Adam Machray and Dan Mather in the ACM roles.
Asher Cohen put on another CDM masterclass, we feared the loss of Stuart Carrick might be too great, but Asher has already shown everyone that he was the man for the task, and I look forward to seeing him continue to grow as an essential member of the squad!
Defensively we were a stone wall – Matt Dray, Tom Iontton, Jake Tasker and the skipper, Ollie Taplin, gave the team the confidence to go forward without repercussion and with the opposition only penetrating our D a handful of times nothing ever troubled our very much in form keeper, Josh Rider.
2 goals from Joe Turmaine, 1 from Colin Foad and 1 from Luke Trevill show we have a forward line capable of great things! This was very much supported by narrow misses from Jake Sumner, Jack Wilson and Harry stone who had excellent games in the front line as well.
MOTM: Jake Tasker who showed great vision and dominance from centre back.
DOTD: Ollie Taplin, for a wild undercut pass straight into an opposition player's midriff!
Roll on Osterley next weekend.
---
No game for the M2s this week…