WH&E L1 0 : 6 Barnes L3
This week the 1s went on holiday to Barnes.
Our holiday started off well.
The sun was shining and #TeamBus1 discovered they had a magical boot that looked tiny but actually holds three full-sized hockey bags! The accidental convoy of cars managed to find the hidden pitch at the end of a very long and winding road…
The majority of the 1s were pleased the cold changing room had a heater whilst we waited for our leaders to arrive, as there were metaphorical and physical bridges to be crossed
Our mantra for the match was live laugh love lose x
At teas the oppo checked in with us "'Excuse me- how many did we smash you by?!" -in a nice way, they were very friendly victors!
Then Sarah, as if she's their coach, asks "Wtf happened against East London???"*
Sarah needed answers!**
*Barnes #topoftheleague averaging 10 goals/game vs bottom of the league and they only won 3-1
**after mild shock at the question and look of concern(!) they remembered… they were missing half their team, and the players that could make it all turned up sporadically, and "not on form"- except the one that scored of course
WH&E M1 4 : 1 Indian Gymkhana M3
Purple protagonists perform
As warm solar rays graced the day, the Purple pugilists assembled to contend the occasion. But fourteen courageous participants on the roster fell to 13 as injury afflicted Dominic Smith stood down from the Purple Platoon.
A rousing prevailing of the game opportunity ahead from Captain Carrick enthused. A chance to inflict a defeat on potential league champions Indian Gymkhana. A chance to avenge a deficit from months past. A chance to proffer a performance that has been threatening to emerge in recent weeks. Those clarion trumpet calls combined to set the state of play as the Purple shirts assembled opposite the yellow-shirted contestants.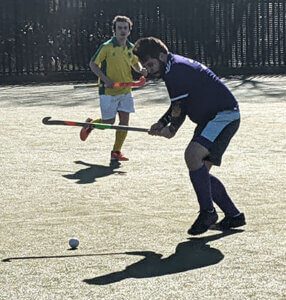 Whistles blow. Sticks on the move. Several attacks. Jack Wilson in a cosmos of space near the 'D' – a place he repeatedly secured. A quick firing comet from Oliver Taplin to Jake Sumner to Jack Wilson. A blistering attack flashes across the D. A near identical move. Jake Tasker fires equivalently from rear lines. And another attack. No quarter given by the Purple protagonists. Intensity high. Pressure strong. Domination paramount. Quick passing – a corner of the short variety ensures. Colin Foad shoots and backboard sings.
But, 13 became 12. A clash. A cut. A rushing of blood. Jake Tasker downed with a cut above the eye. Time stopped. Bandages flow and Jake Tasker's head mummified as the able warrior is helped to the sideline. Only ten-minutes gone. Can the Purplists respond? They can.
Asher Cohen takes the left back mantle but hankers for his midfield anchor too. In the coming minutes Asher from the back, takes a tackle, a stride, another, a jink and jostle, and D-wards step provides a pass and goal – left back assister no less. Dan Mather the joyous beneficiary.
The Gymnasts perplexed. Out run. Out tackled. Out passed. 'Great game intensity' proclaimed Oliver Taplin, channeling his historic namesake, urging on the New Purple Army. Captain Carrick par excellence too shadowing Gymkana's playmaker and demonic dribbler with every twist and turn – an individual feud bestriding the hour and sitting betwixt the wider conflagration.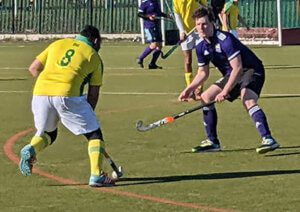 Aidan Mullins, a helmeted behemoth and stout guard, thwarts occasional incisions. Michael Dutnall blocks and impedes Gymkana incursions. Jake Sumner adopts an inner Jake Tasker with tackle and hurling of the ball from left base line to forward position. Dan Mather harries, Harry Stone harries and Adam Machray harries. Indeed, every Purple-shirted titan adopts the harry mantle.
Alas, not every yellow surge is blunted. Gymkana's managed to move their abacus one notch.
But the Purple players renew their response. More D-wards efforts. Ball stopped by boot, decried by Gymkhana suggesting direction was not goalward bound. The umpire's gavel dismisses the claim as arm raised aloft and whistle shrills.
However, the resultant contest between Colin Foad and Gymkhana keeper does not dent the Purple tally.
First skirmish period elapsed.
A more balanced affair in territorial acquisition as the second period unfurls. But Captain Carrick again resumes the battle, deftly blocking Gymkhana progress. John Lappin holds the right-hand side admirably. As time ticks, Gymkhana appears to occupy ever smaller pockets.
Sweeping Purple moves grace back to front, side to side and wing to wing and with many D-wards forays too. Step forward Colin Foad to procure a third for the Purple column.
A fourth is not far behind. A Purple streak. A victory validated.
As the remaining seconds ebb the Purple performance of the season cements itself. Proud Purple hearts. No hazy performance here. A clarity of precession play. A cheer. It had been accomplished.
WH&E L2 0 : 1 Southgate L5
10 players but we don't think Southgate realised it. Lorna with a torn tendon after spending the previous day in urgent care and Charlotte's ankle failing halfway through.
So many Southgate short corners and not a single goal.
So many moans about the state of our pitch. Funny, because when we were on their lovely water pitch we beat them 6-0!
Lorna taking the ball as the player lifted her stick to take a strike.
C's 3D skills – picked the ball from the air and then reverse volleyed the ball away.
Bridget, Sula and Kareen absolutely everywhere.
Pippa's goal line save. Classic.
Chris covering our arse. A lot.
WH&E M2 1 : 2 Old Merchant Taylors Demons
Everyone played a good game, and performances are definitely improving:
Starting from the back…
John made some strong saves, including a great save repositioning after a cross – it's almost as if he'd been practising that on Wednesday!
Joe was his imperious self in defence, and some great distribution from the back. And his tackling must be improving, as his green card was only for swearing (in front of youngsters).
Huw kept stepping forward to intercept passes, and generate great counters. He's annoyed at one of the goals, but I can safely say I wouldn't have dealt with stopping their skilful youngster half as well.
Tom bossed the midfield, and put in great passes. Fantastic game. Unfortunately he must have picked up some bad words from Joe, as he too saw a green card for swearing.
Guy was distributing well, and had one mazy run forward when his head went down and he couldn't see any passing options.
Theo dropped to right half, and was a great outlet finding space in attack. With a more natural right winger ahead, he'll create a lot of opportunities.
Siva started to bring his Wednesday form to the game, looking more comfortable in possession and adapting more to playing on a full size pitch. He can only improve as his confidence grows here.
Piriyan used his speed up front to good effect, and was linking up well interchanging passes with his brother.
Luke drifted into space well up front, receiving the ball high to help build attacks.
Pete made his cameo appearance, and was always foraging on the post, including one fantastic attempt to divert a (wide) near post shot which looped agonisingly past the far side of the goal.
And despite starting from the back, I'll finish with Wayne, who used his pace to great effect as left back to dispel various attacks – but then also drifted forward to score our goal.
What other positives?
We successfully restructured to remove a defender and add another forward which created the extra pressure leading to the goal. (Well done the defence there for initiating that)
We had our first away spectator of the season – who was rewarded by her dad scoring his first goal of the season!
We passed the ball much better, both building attacks gradually and having some quick counters.
We had a short corner. (I think the count was 2-1 in our favour this time, as opposed to 0-20 last match).
What else do we need?
More killer instinct in front of goal. Goals have been hard to come by in the second half of the season
More fitness – definitely – and maybe more subs.