WH&E M1 6 : 2 East London M4
A beautiful winter's day which made Southbury look even more enticing than usual. This was the setting for the M1s to show some attacking intent that has been lacking a bit this season, in part due to inconsistency in availability and playing some very strong opposition.
The first ten minutes showed promise but attacks were breaking down at the final pass. Then something seemed to click and we opened the scoring with a fast slick move that was arguably our best goal of the season so far. Having switched the ball across the back Eray played an excellent hard direct ball up to Colin in the channel. One neat touch to eliminate his marker, some quadragenerian acceleration towards the 25, and then a further hard and accurate strike to Tim running in from the opposite flank. Looking composed, and if anything better-looking than usual, he quickly smashed it past the keeper for 1-0.
Further good interplay led to a short corner which Colin smashed into the far corner at the perfect height – 2-0. East London did have some counter attacks throughout the first half and we left Josh exposed more often than we should have. From one of these counter attacks, they managed to get back to 2-1 for half-time.
Half-time discussions mainly revolved around doing the good things more and the bad things less. This worked well. Soon after the restart another short was won, and some on-the-spot training for Dan paid off beautifully as he ended up in the perfect position to neatly deflect Colin's pass outside the far post past the keeper for 3-1.
Pressure continued to build on East London as they desperately sought to get back into the game, but unlike the first half they were also now struggling to make any serious inroads on the counter attack. Stu and Matt were tidying up beautifully any time they got close. Adam and Dom kept the ball pace up in the middle of the park, Jason and Sam offered great outlets in the wide positions, and Harry bravely headed the ball away when required.
The pressure told. A ball from midfield into Colin at the top of the D, he slowly tiptoed his way around a couple of players to the baseline and played the ball across the goal for Dan to knock in from close range and grab his second of the game – 4-1. It was soon 5-1. East London kept their discipline well but another Winch' attack led to a defender blocking the ball on the line from young Tim. Colin made sure the flick counted.
A late consolation for East London from a short corner with a neat reverse stick finish made it 5-2. But just to make sure we celebrated the win with the final word, Colin placed another short corner inside the opposite post to complete his hattrick and make it 6-2.
In truth it could have been even more convincing and there is still plenty of room for more composed phases of possession. But the weather was great, the umpires were super, and we had at least two fewer people in hospital than last week. Here's to more of the same for the rest of a promising 2022.
WH&E L1 3 : 2 Richmond L3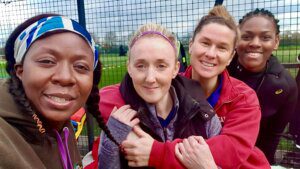 The ladies 1s played at home on a sunny afternoon against Richmond and were determined for a Win! We were missing a few key players today but sending Vicks and Beth all our love at their homes isolating. Still love but a little less to Karen Goode who didn't manage to convince her mum to come play for us, thus choosing her mum over us!!
It was a squishy start for Evie who let Maple roam free and then got punished for it, although the day looked less rocky from then on. T finally made it to a game with an exciting announcement, she could see! She made use of it being strong at left D.
We called Abbi and Kate up and they both played absolutely brilliantly, with Kate shutting them down and moving it up the right and Abbi making strong runs into space to make opportunities happen for us up front, huge thanks to both for their strong game play.
The first half we played well as a team, communicating lots and our press was shutting their 16s down. Unfortunately on one lucky break, the opponent's superstar smashed it into the back of the net for 1-0. We were determined to get one back and Bethany decided to take it into her own hands and dribble through 5 of them to put it past their keeper. Then we got another on a lovely cross in from Gem, Karen Gray smashed it into the back of the net, 2-1. Sarah, T and Gem were holding strong at the back and Sam, Kate and Evie were shutting everything down in the midfield.
The second half we kept up the teamwork and on another ridiculous effort from Bethany, Kate smashed it into the back of the net for 3-1. Karen Gray had a beautiful chance for another one on a great cross on from Sam, but somehow the keeper got there. They had a few chances down our end but Nic kept the positivity and communication and made some stellar saves to keep it out. Then the usual, with 10 minutes left we gave them a few penalty corners, just to keep things spicy. On one of those chances, a shot was hit straight through to the backboard, 3-2. From then on though we managed to keep it down their end and we had momentum and press to hold that score and get the Win!
WH&E L2 0 : 2 Imperial Medics L1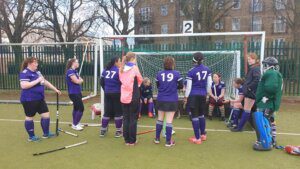 Following last week's win, we came to the game feeling confident despite our previous loss to Imperial; we had a full team, including subs, and the weather was on our side.
We started strong with superior skills and teamwork however we soon lost our form, matching Imperial's lack of structure and forgetting the strong passing play we've been demonstrating the past few games. Imperial were getting opportunities, but we kept strong in the defence with some lovely clearances, including a beautiful dive from Chris, saving the ball from getting into that bottom left corner with the stick. But despite our hard work, Medics managed to end the first half 1-0 up.
The second half started and we came back with a vengeance, keeping our cool and doing beautiful passes across and up the pitch, getting around their defence and creating chances. After one such opportunity a Medics' player's clearance lifted the ball past Pippa's face, giving her a chance at demonstrating her ball-dodging skills a la The Matrix. Despite this, Medics' speed kept them at an advantage. During a battle for the ball, Pippa fell in the centre of the pitch accompanied by a very hearty laugh from Lisa, but Freya wasn't to be deterred by her fallen comrade, battling to maintain possession of the ball.
However, despite our much more controlled and clean play, which led to an extended battle on the opposition's goal line, Medics maintained a clean sheet as well as gained another goal, the whistle blowing with a finals core of 2-0 to them. But we're not to be deterred, and will come back fighting next week!
WH&E M2 0 : 5 Indian Gymkhana M5
The trip to Indian Gymkhana was undertaken with some trepidation – a bad tempered 7-2 thrashing earlier in the season perhaps contributing to a lack of players this time round. We eventually reached 11 by denying the 1s some subs (and by the results, it didn't look like they needed them!) and by pulling in the captain's 76-year old dad – resulting in 3 generations on the pitch.
The fears were only half-justified: it was a very enjoyable and friendly game, and Gymkhana very welcoming (and providing an excellent curry afterwards). They were, however, very skilful: Guy had their centre-forward well marked in the third minute, but still got beaten all ends up as a reverse-stick shot from top-D hit the bottom corner. Hmmn.
So, ending up as a 5-0 loss, but one with plenty of good hockey from both sides, and lots of good passing and attacking intent from us. It would have been nice to have converted one of our many short corners, but we put on a good show, and were beaten by a very experienced team.