WH&E M2 1 : 0 Southgate Adelaide M2
Last week's glossy win was followed up with a far more gritty game versus local rivals Southgate Adelaide this week – a game which they had billed on their Twitter as 'the real North London derby'.
The opposition won several short corners early on which were well kept out by Nick Smith in goal along with his defence who made a number of good clearances including one off the goal line.
Winchmore seemed to be on the back foot with some attritional attacking from Adelaide however the defensive line of Joe Small, Michael Dutnall and Huw Thomas remained solid.
Towards the end of the first half, Chris Buff broke through and beat the last man to find himself 1 on 1 with the keeper who he calmly slotted past to break the deadlock and send Winchmore into half time 1-0 up.
The game came to life in the second half with both teams having opportunities to test the goalkeepers. With ten minutes remaining the opposition appeared fired up with their tackles becoming increasingly robust. Asher found himself in a Southgate sandwich and was hacked down with a stick to the ankle which saw tempers become increasingly frayed. A green card was rightly handed to the Adelaide captain who trudged off launching his stick into the pitch side fence earning him an upgrade to yellow.
Some further handbags ensued as the game reached its final minutes resulting in an additional green card for the opposition, with Winchmore sensibly not engaging in the verbals.
Another win added to our total puts us in a solid position for a big push up the table after the Xmas break.
---
WH&E L1 0 : 3  PHC Chiswick Ladies L2
The ladies 1s were up against Chiswick, hoping for a 5th week of points and finally getting out of the relegation zone.
We started fairly strongly, with our young star Freya in goal making some great saves, and us getting good runs in up front from Beth Deane and Bethany McNamara. Chiswick were a well drilled team and had a lot of chances at goal. One saved by MOTM Gemma Gatting who, after it had been saved and then rebounded, stopped the ball just off the line and very coolly pushed it away to keep us level.
We fought hard but unfortunately could not convert our play into goals, after a few attempts, and ended up losing 3-0. An unfortunate end to this side of the season but a lot to think about over Christmas, especially for DOTD Sarah E-Q who made her husband get her 3 kids into the car just to bring her watch to her for the match…and then get them all ready to come and pick her up again 70 minutes later!
I hope everyone is looking forward to a lot of fitness during training in the new year ?
---
WH&E M1 3 : 4  Broxbourne M3
The last game of 2018 brought Winchmore Hill and Enfield Men's 1st XI to Broxbourne on the banks of the Lee river for a match scheduled at the very festive time of 4.30 pm.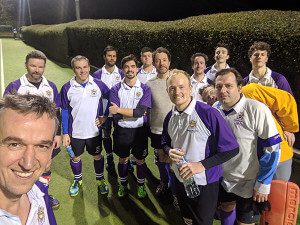 Winchmore fielded a strong team and the luxury of two subs for what is always a hard-fought match.
There were several initial quickfire exchanges – Broxbourne possess several highly skilled players – and they were rewarded with the lead early in the first half.
But the teams proved tightly matched as they exchanged goals and ended the first half evenly matched at 2-2.
Winchmore were very effective at combining Jim Gatting's strong passing from the back with effective midfield link up play which then translated into pressure on the Broxbourne goal and two goals, one a successful short corner from Gatting and the other a Tim Mall goal from open play. Indeed, some of Winchmore Hill's clever swift passing around the D would have suggested that Winchmore were well-positioned at half time to take the spoils.
So to the second half and a period of midfield domination with Stuart Carrick and Dominic Smith key. Yet although Winchmore got one more goal – a fantastic first-time deflection from Craig Jackson – they simply couldn't translate the domination into more than that one goal and Broxbourne took their chances to put two more past us – one frustratingly from a short corner, another on the break and very much against the run of play.
Winchmore came close a couple more times – there may have been an open goal incident – but it was not to be. Much to mull over the Christmas mulled wine.