WH&E L1 1 : 2 Old Merchant Taylor's L1
The first 5 minutes we came out strong and ready to pounce on any opportunity. Their keeper was consistent in keeping us out of the net as Nic worked hard to keep them out of our net. It was an even half with chances at both ends.
The second half was a bit spicier. They scored off a penalty corner rebound opportunity and another on a lucky break after 11 minutes of sustained pressure at their end. We got one back after our "rugby huns" tactic was beautifully executed without a rugby hun present, but we couldn't quite get the equaliser.
50/50 split about the quality of the teas and accidental screenshots were sent that kept #TeamBus entertained !
Over and out, mic drop
WH&E L2 2 : 1 Old Merchant Taylor's L2
The ladies 2s had 14 players on the team sheet this morning but just 12 by the time push back rolled around. We'd lost to these earlier in the season, but we were still quietly confident.
The opening few minutes saw some lovely passing and we looked totally in control. Unfortunately an "enthusiastic" tackle from Kylie gave them a short corner which led to 2 more and they put the 3rd one away. We didn't deserve to go in 1-0 at half time.
There was great play across the pitch – our press gave them lots of problems at the top and they were heard to say "they could learn a lot from" our defending.
Our first goal was a whole team effort, which came out from the back, up the right through Bridget, Kareen, and Charlotte who sent into the D where Abbi calmly slotted into the back of the net.
We got our second very quickly. It was more scrappy with Abbi getting on the rebound of a Charlotte shot and hassling the keeper until she got it in.
(Both goals were scored when Lisa was off the pitch…and we're wondering if perhaps she should have been subbed off more?)
We were holding on a bit for the last ten minutes as the tiredness set in and we lost a little composure, but we held them off for a great 2-1 win.
Thanks to Dom and Jason for travelling back to umpire us.
WH&E M1 0 : 5 West Hampstead M4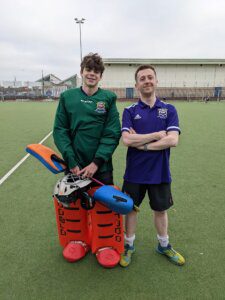 The men's 1s took the short trip to Brent Cross for an early start against league leaders West Hampstead 4, with a first team debut for John P in goal, stepping up from the 2s, and a season debut for the returning Jack Wilson.
Travel problems / late arrivals meant we started with a bare 11, but we began solidly and held our hosts with a half court press and playing with confidence. But after 15 mins, Ollie took a nasty stick to his fingers, meaning a reshuffle of the defence and midfield…and a subsequent trip to A&E where a hairline fracture was confirmed .
This enforced change swung the balance in favour of West Hampstead, who put away 2 quick goals with clinical finishes from close range.
After the break, we came out with a renewed focus, working the half court and full court press to good effect and gaining turnovers high up the pitch. But despite several promising D penetrations and penalty corners, we couldn't convert, and it was the home team who again showed their composure with close range deflections and far post tip ins to score 3 more and run away 5-0 winners.
The scoreline didn't reflect the balance of the game, with lots of promising play that we just couldn't turn into goals. Plenty of positives to take forward to next week, and also plenty to work at on the training pitch.
MOTM goes to John P in goal, who showed great composure and made some great saves on his debut. Big shout out to Dan who put in a heck of a shift in attack and a reshuffled midfield, and is getting better and better every week. And the final word goes to Matt Dray, who after being clattered late on, looked like he had a hockey ball growing out of his knee!!
---
No game for the M2s this week…again ☹