WH&E M1 1 : 1 PHC Chiswick M3
The men's 1s found their form with great pressing, discipline and teamwork from the start, taking the game to 2nd placed Chiswick and really surprising the visitors. And it wasn't long before the pressure told – a penalty corner slipped left, flicked towards goal and then deftly deflected up and over the keeper by Adam Machray to make it 1-nil to Winchmore.
We continued to press and create chances, but sadly couldn't convert. Chiswick then started to gain a foothold after the break, and despite losing a player to a 10-minute yellow for a sliding tackle, the visitors piled on the pressure in the last few minutes, forcing a penalty corner in the dying seconds after substituting their GK. And sure enough, Chiswick equalised with the last touch of the game ☹
Big thanks to Lisa for umpiring her first M1s game, and doing it very well too!
WH&E L1 2 : 2 East London L5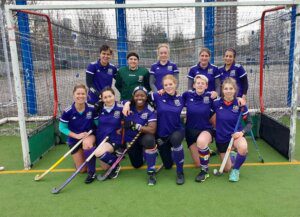 'Twas the game of stick tackles. Only tackle from below says the umpire. With the Deane team out, we only had ourselves and our 2 practice balls to rely on!
It was an early, frosty and angry morning for Karen when the last game before Christmas turned into quite a laughing matter. Karen began the game angrier than ever due to parking issues, but Sarah tripping her up definitely did add to her fury. We were less pumped up with music and our preparation was slightly lacking due to our 2 balls, no subs and Mia and Karen getting lost en route to the pitch.
The first half brought us explaining the rules of hockey to the umpires, Sarah taking a few boob balls for the team, Shell slipping and bleeding as per usual, their offensive penalty corners having as many chances as they like, some beautiful eavesdropping and saves from Nic, and Mia stepping into left back like she never left. There were chances at both nets, and also nowhere near the net when Karen G smashed one 5 m off the end line.
Nonetheless Evie and Karen Goode were playing beautifully down the left and right but unfortunately as only stick tackles were being called, KGs usual play off their feet wasn't working. We had a few penalty corner chances with Gem stepping up and striking a few beautiful shots in target. One of these chances went to Bethany who ran it out right to Karen, into Gem and then onto Shell's stick and in the back of the net, 1-0.
They enjoyed raising the ball into our bodies and pushing us over when we were on the ground with Mia even saying, "this is more aggressive than my new sport of boxing." It was fun and we were loving every minute of it, even with half of us having the lurgy (but testing negative!)
After half-time, their army of 29 players and annoying penalty corner music came out strong and smashed one past Nic for 1-1. Bethany was playing brilliantly for Sam in centre mid and passing / dribbling up to give Abbi, Vicks and Kazza some chances up front. One of these chances was smooth as it came from the halfway line to Karen, on to Bethany and then slid past for Abbi to put it home, 2-1.
Nic was playing solid in net and amidst eavesdropping and silently questioning the umpires every move, she made some legendary saves, including a 1 on 1 where Nic scared her off. Then from a penalty corner when they took 3 strikes, Shell stumbling and apologising and not even getting one strike, they slotted their second home, 2-2. We had a few more chances from Karen, Abbs and Vicks up their end and we had a few more calls of stick tackles that were anything but.
We played a strong team game and should be proud of our draw, although would have loved an Xmas W. Happy Holidays and L1s are hoping for some 2022 Ws for Christmas
WH&E L2 1 : 4 Eastcote L4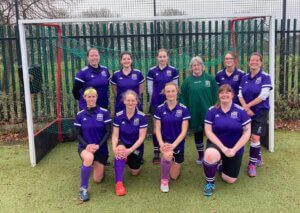 After two weeks without a match we were looking forward to a run around, particularly at the start of the week having 14 players, luxury! However, by Saturday morning due to COVID we were down to 10, definitely going to be a run around!
We counted them out, they only had 10 too! That didn't last though and by pushback they were plus 1 sub.
We didn't care – we were oozing compliments and positivity, and we started strong as a team with good passing, communication and running just enough to last but allowing the ball to do the work. It was not noticeable that we were fighting top of the table with a player short.
We were composed on the ball, made some lovely strong passes to great runs and although we put in some great crosses we couldn't convert. Solid defending in the first half as we absorbed the early pressure. Going forward there were some lovely interchanges and communication was good. Sadly, ending the first half 1 down.
Mid way through the second half we got a short corner, Charlotte's strike from the top was saved but Kate was there to slot it in the bottom corner. Kylie did some great runs up and down the wing and managed to hit herself in the face with the ball…multi-talented, and displaying some awesome skill!!
As the game progressed those extra two players made it tough work, with fitness playing a part, Eastcote popped in a few more goals making the final score 4-1.  Everyone played incredible, dug deep and at least we managed to christen our new kit 😝 roll on 2022!
Finally, a big thank you to Dom and Jason for umpiring and for so many people turning up on the side-line to support.
---
No game for the M2s this week…and now time for a long Christmas break!
Next league matches: 22nd January.