WH&E L2 2 : 2 Old Merchant Taylors L3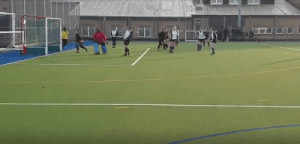 We arrived at the pitch, captainless and thinking we only had a bare 11 only to realize that we in fact had a sub… Lorna to the rescue (with Kirsty in tow).
OMT started quickly and it took us a while to realize that we can actually play hockey too. They took the first goal from a break to our disappointment. This woke us up and we quickly received a short corner. A strike from Gemma which was converted by Charlotte to bring us equal just before half time.
Second half we started well with confidence getting the better of OMT until our jet setter Michelle hit herself in the head. Luckily, she can recuperate in sunny Jamaica, not jealous at all!!!
They scored from a scrambled short corner making it 2-1 but we fought on and of course Abbi put one away. This puts her goal scoring total equal to last years after only half the season; winner of top goal scorer again?!
Final score 2-2 draw, bring on the next!
---
WH&E M2 1 : 4 St Albans M7
Having already beaten St Albans M8 earlier in the season, the men's 2s were hoping for a similar result against their M7s and in a tight first half it looked like they might be in with a chance. St Albans scored first, but Winchmore battled hard and earned a well-deserved equaliser shortly before half-time, with Luke diving and sweeping the ball past the keeper after a good move down the right.
However, the exertions of the first half had taken their toll on Winchmore, and in the second half St Albans pushed on as the stronger and fitter side, eventually scoring 3 more goals to make it 4-1 as the final result.
---
WH&E M1 v Blueharts M4
Jack Frost 1, hockey nil. Match postponed…
---
WH&E L1 1 : 6 Ashford L1
No match report, yet…