WH&E L1 1 : 0 Hampstead & Westminster L5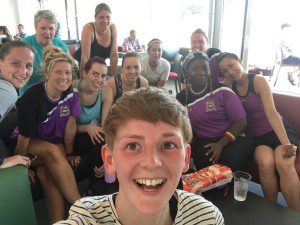 First match of the season for the Ladies 1s and everyone was dreading playing in the late summer weather. Isn't hockey a winter sport?!
With a few changes to the team over the summer and some of our usuals not able to play, we were feeling a slight nervousness, which we were able to overcome as soon as we stepped on the pitch.
Our focus of the match was to not drop our heads and lose in the last minutes of the game, which had happened at the pre-season opener the week before. So, with determination we start working hard from the whistle and pushed all the way.
We had lots of chances in the first half, including a great ball into the D from Sam Deane which Bethany couldn't manage to get on the end of, as well as a ball in from Bethany to new player Vicki, which we couldn't manage to convert either.
Come half time, we were feeling the heat and needed to regroup. A really good half time team talk pumped us all up and we were piling on the pressure to Hampstead & Westminster's defence with lots more great chances and short corners, one of which Sam was able to convert into a goal. The rest of the game was tough as Hampstead tried to counter, but with Team Defence looking for a #cleansheet, they were unable to do so.
We held it for a 1-0 win, and we really deserved it! A great confidence boost to the team, and a glimpse of how we plan to continue; doing the basics right and playing some really sexy hockey!
Players of the match to Sam, Beth and Talyssa for great play in their positions and Dick of the day to Sarah E-Q for ducking away from a high ball but then standing up so she actually ended up heading it ?
Our next match next Saturday is at home at Aylward. PLEASE COME SUPPORT ????
---
WH&E M1 2 : 3 Blueharts M3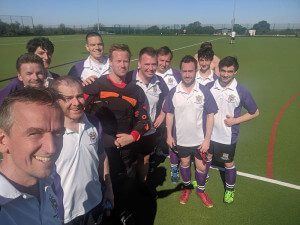 A new season and an updated squad. The first game has traditionally been a brutal season opener mainly due to lack of practice and lack of players.
This time we had subs, although the omens weren't great with Matt Dray's car giving up the ghost on route and Dom's tyre going too.
So we started but with less subs and the subbing strategy out the window.
This game was about learning how we can set up going forward into the new season and testing out various positions.
We did start slowly and conceded too many short corners and Blueharts pressured. We had a few shorts ourselves with both Joe and Mike coming close from the top of the D. 2-0 down at half time but heads still up. It could have been worse if not for multiple saves by Josh.
At half time we agreed to stick to our game as the approach could work, we just had to sharpen up. Indeed, the game was far more even in the second half. Blueharts did however score from another short corner which seemed to put the game just beyond reach.
Then over the horizon Matt Dray appeared and gave us the boost we needed. Taking us close to a point with 2 superb finishes by Man of the match Colin Foad.
In summary, we started to play the kind of hockey we want to, and it bodes well for the future.
MOTM: Colin, with honourable mentions for Rafi, Paul and Josh.
---
WH&E M2 0 : 7 Letchworth M4
The M2s faced Letchworth 4s in both the first game of the season and their first in div 7 following back to back promotions.
Letchworth immediately looked like an organised and disciplined side taking a 2-0 lead early. The second goal coming in comedic fashion as centre back Nick Smith found himself 1 v 1 with their forward and perhaps forgetting he is not in goal anymore collapsed at the striker's feet! 4-0 down at half time.
Winchmore looked far better in the 2nd half. Passing the ball around nicely and creating some chances through several short corners, however Letchworth went on to score 3 further goals.
Despite the score there were positives to take from the game. Well done to the 4 Winchmore debutants Guy, Theo, Luke and Jamie who all made a solid start.
---
WH&E L2 v Ashford L4 (match conceded)
The L2s started with 3 points, though not the way they wanted to with Ashford conceding the match. After a good week of training the L2s are raring to go!