WH&E L1 1 : 5 Teddington 2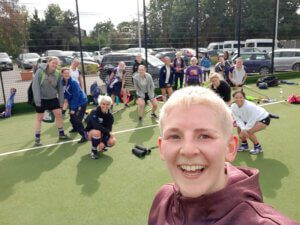 First match of the season was nearly cancelled due to a lack of available pitch until our 'home' game was 1.5 hrs from home.
Unfortunately, some of us forgot how long it took to get to Teddington and myself and Reanne Umali were running into the car park just as the whistle went to start the match. Thank you to Pippa Deane and Charlotte for playing for us after the 2s match was cancelled or else we'd have started with 9!
The match started with a bang as it was 2-1 to Teddington in less than 10 minutes. Their goals were by short corners and ours was by Karen Goode, set up by Beth Deane.
The first half continued to be a bit tricky as we ended up going down 4-1.
We continued fighting and making chances for ourselves but were unable to convert. The second half was a 1-0 loss to make the total score 5-1 to Teddington.
We're not overly disappointed due to the fact that the opposition have just been relegated from South, we haven't been able to train on a full sized pitch, and lastly we were just pleased to be allowed to play together again and really enjoyed it!
Shout out to Lucy and Nic Cohen who played their first match with us on their birthday and thank you to Lisa Jobson for coming all the way to umpire!
DotD to Pippa for passing to the opposition during a hit out and then defending it with both feet in the D ?
PotM to Mia for great perseverance and movement up and down the pitch.
---
WH&E M1 2 : 2 Southgate 3A
First league game of the season with an unusual 14 man squad, Winchmore made the short trip to Southgate for our local derby. With this little pandemic going on we have found ourselves currently without a pitch, so the fixture was reversed…as was the age demographic – the opposition certainly had youth on their side as well as a match day coach! We thought we might get taught a lesson by year 6. But as the saying goes…old age and treachery will always beat youth and exuberance…was that to be the case today…? Well almost, but it definitely should have been!
The game started brightly, a few rusty passes as to be expected with the first league game but overall we found ourselves to be on top having the better of the chances and narrowly missing at the back post to go one up. The team kept compact using the short pass to great effect with some good off the ball movement. However, against the run of play and without really threatening our D, Southgate earned themselves a short corner and with a low drag to the bottom corner went one up. Winchmore did pull a goal back almost immediately but the umpire had judged Colin "van Basten" to chest and volley the ball into the top corner, so ruled it out.
Another rare attack by Southgate and a mishit shot on goal wrong-footed the keeper and Winchmore found themselves two down. But another good patch of play by Winchmore and we earned a short corner; Colin van Basten coolly slotting it into the bottom right corner. The order of the aforementioned events may or may not be correct but as author I'm "basing this on a true story" but it was definitely 2-1 at half time. I think somebody might also have got a green card in the first half for flirting with the opposition, but I promised Matt I wouldn't mention it.
Much like the first half Winchmore found themselves on top for most of the second, some great patient play in the midfield was finished with a through ball from Stuart and the faintest of touches from Colin van Basten to bypass the keeper and it was 2-2. The scoreline remained for the rest of the game although we did survive an onslaught of pressure in the last ten minutes with some tired legs, and another player falling foul to the card game… Jason…
This was a very determined team performance and something to build on and take into next week's game; a bit of match sharpness in front of goal and this would have been a very different result.
MOTM was a tie this week with Colin and Lopez sharing the accolade.
---
WH&E M2 2 : 2 St Albans 9
The men's 2s headed to St Albans for their opening league game, without the luxury of any preseason friendlies to prepare.
There were strong performances from the three defenders, Joe Small, John Symons and Ellis Cohen, and they largely had the St Albans attack contained – but some lucky breaks in front of goal saw the opposition go 1-0, and 2-1 up – the second after a green card for Joe for questioning the umpires' decisions (albeit extremely politely).  A mazy dribble from Dom saw our first equalizer, and some luck of our own when Thomas C's shot was deflected by an unfortunate defender through his keepers legs saw our second.
Despite strong pressing at the end, we couldn't score the deciding goal, and so an entertaining first game of the season ended in a 2-2 draw for the men's 2s.   Good performances from all the youngsters, linking up well, but just lacking the final killer pass or dribble into the D. There was also a ranging performance on his debut from Johnny Molloy, putting in tackles and runs in all areas of the opposition half despite the unfamiliar environment (apparently he's used to playing hockey on a unicycle!).
With Dom's strong presence on the pitch to help the youngsters (thank you Dom!) this perhaps felt like a chance missed – but plenty of rust removed, and some seniors to return next week, so onwards and upwards. There's always the chance the captain might run a bit more too, if he hasn't played another sport in the morning…
Man of the Match – Ellis Cohen.
---
No match this week for the Ladies 2s