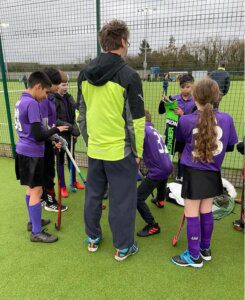 A Sunday morning trip up the A1 to Blueharts for the U12s. We arrived in a wet and windy Hitchin, but the players were full of enthusiasm and ready to go.
We got off a good start with a 0-0 draw in our first game against Blueharts D. A trickier second game against Harpenden C sadly saw us go down 3-0. The third game against Blueharts C was a tight 1-0 defeat. We rounded off the tournament with a 9-a-side game against Letchworth C losing 1-0 after a strong performance.
It was a great experience for the players taking part in their first tournament, alongside some of our more experienced players. Hard work across the team, great spirit, strong tackles and creating good chances. Lots of positives to build on for the next tournament.
Well done Dawud, Emilia, Edward, Orla, Adam, Zoe, Hannah, Mia, Sam, Arran, James. And thanks to the parents for braving the weather.