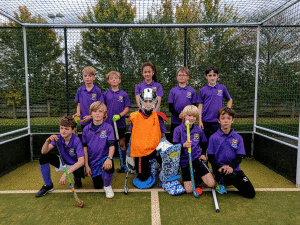 The U12 junior team had a great day out today, playing the first of this season's tournaments hosted by Harpenden at the impressive Woollam Playing Fields facility in St Albans. And what a day!
With a squad of 9-11 year olds it was always going to be challenging for our team against the bigger clubs and older players on the Hertfordshire teams. In the first game, Winchmore started strongly and were unlucky to go behind to a well taken first time finish from a right wing cross. Our team fought back well, with Tom, Cameron, Isabella and Seb working well together to create a couple of good chances that just couldn't be converted. Hertford grabbed a second goal late on with a direct strike from a penalty corner, running out winners 2-0, but the score didn't reflect the hard fought match.
In the second game, Winchmore took on Blueharts and a tight match ended in a 0-0 draw thanks to some fine goalkeeping from John as well as sterling work in defence from Robbie, Theo and William.
The third match saw our team take on the might of Broxbourne – nemesis of our adult teams, but not for our juniors! In a one-sided game, goalkeeper John didn't get a touch as Winchmore continuously threated in attack. After a goal-mouth scramble Tom forced the ball over the line for the opening goal and this was followed up with well taken open-play goals from Cameron and Vinny. A 3-0 win for Winchmore but it could easily have been more.
In the final match, we faced a strong Letchworth team who scored early on with a well worked goal knocked in from close range. However, we fought back well and good work in midfield from Ben, Tom and Seb, created several chances for Isabella, Cameron and Vinny, but Letchworth's goalkeeper and defence managed to hold on for a 1-0 win.
One win and one draw a good return from the first tournament day, with all games played in a very good spirit. And special thanks to Guy Chapman for managing the team and coordinating all the substitutions – no mean feat with 10 players who all want to be on the pitch at the same time!
The next round of matches is on the 5th November, when we will be hosting the U10s tournament at Southbury Leisure Centre. Watch this space for more info!