WH&E M1 0 : 3 Waltham Forest M2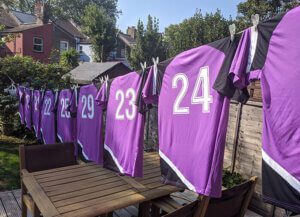 The men's 1s returned to action with a much-needed pre-season warm-up match against Waltham Forest. With a socially distanced pre-match team talk, elbow bumping the umpires, stick tapping the opposition, no changing rooms and no post-game teas, this is the 'new normal' hockey style. However, amidst such change it's good to always have a constant, and that came in the shape of the ever predictable Jake – the last to arrive (of course), who also proceeded to play 'double-shirted' with his lucky blue/white quartered shirt under our away strip, on what turned out to be a rather hot September day.
With two fairly evenly matched teams, it was Waltham Forest who took the lead from a penalty corner that was deftly deflected past Balazs in the Winchmore goal. The home team made it two nil shortly before the break with a sharp turn and flick into the corner of the goal from their young forward. 2-0 at half-time, but it wasn't all one-way traffic. With bright attacking play down our right we were creating opportunities and being awarded penalty corners, but we just couldn't find our scoring touch. Our best chance falling to Adam Machray following up a saved penalty corner, for him only to flick the ball agonisingly wide when it seemed easier to score. Waltham Forest closed out the game with their third goal coming from a break away and a well taken goal against an overrun Winchmore defence.
A 3-0 defeat, but the result was not important. This was our first chance to get back on a full-sized pitch in 6 months, and there are lots of positives to build on. A solid debut for Lopez playing at centre-back (the only minor blemish being a rather hastily awarded green card), the midfield pairing of Adam and Jason working well together, and lots of good interplay and triangles, particularly down the right hand side. Unsurprisingly, the lack of match practice showed, with a few misplaced / intercepted passes and we ran out of steam towards the end of both halves, so we need to work on match fitness too.
Man of the Match: Jason, for a solid all round performance in the centre of midfield.
Dick of the Day: Adam, for shooting wide, when the goal was at his mercy, narrowly beating the 'double-shirted' Jake to this rather dubious prize.