Our U12s Middlesex in2hockey tournament could have started a little better, with a 5-0 defeat against a strong Teddington squad and our defender Joseph's day cut short with a ball to the head 
(don't worry – he's okay).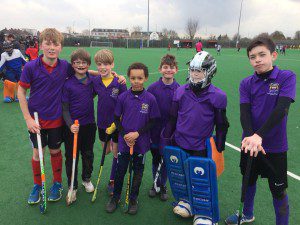 This opened the door for a couple of familiar faces to step up and re-don a purple shirt over their new Southgate colours ?. Thank you Dom and Ed! A couple of losses and a 0-0 draw brought us to the game of the day, the match we all know is most important #therealnorthlondonderby. With Dom and Ed back in their red shirts and Josh drafted in on loan from Indian Gym, we battled for a heroic 0-0 draw, with arguably the better chances including a couple of short corners #didntlosetoSouthgate #feelslikeawin
Lisa and Charlotte thought this would be the highlight of the day but oh-no! The best was yet to come. Late in the day, FOUR HOURS after our first game, a tired WH&E (& Indian Gym Josh) faced Harrow in our final match. A lovely break saw Vinny slot the ball into the D where Theo picked it up and placed it in the bottom corner. We held on with some fabulous defending to a well-deserved win. A great end to a great day.
Honourable Mentions:
– Goalkeeper John who was the epitome of sportsmanship when he stepped up to play for Indian Gym when their GK was stuck in traffic.
– Theo for some fantastic defending and an amazing full on, diving, goal line save which earned him a huge following on the sidelines.
– Luca for battling against boys twice his size and winning 

– Tom for his tireless running, covering the entirety of the pitch and for always tracking back.
Well done to all who schlepped over to Ashford and we hope you're nearly home.