Week 12: Well, I'm delighted to say that the men's 2s finished the first half of the season top of the league!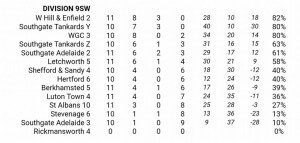 However today was not our finest performance. A tight first half ended goalless as we struggled to find our shape and any sort of rhythm against a handy Berkhamsted side. But we came out after the break with a new sense of purpose and after good early pressure we took the lead with a short corner deflected into the roof of the net. A free hit inside the 25 then resulted in goal number 2 as Leo latched on to a right wing cross, clipping it off his toes like a half volley on leg stump giving the keeper no chance. Our third goal followed shortly after as the ever green Colin Angel slotted home his 570th goal for the club! 3-0 up and cruising… but then the wheels came off as Berkhamsted clawed back two goals late on leaving a few nervous moments at the end.
A 3-2 win, but a scrappy and at times bad tempered game, took the shine off what has been an amazing first half of the season. However, we are top of the league and unbeaten, and that is a really fine effort from everyone. Well done all. A break now over Christmas and then we need to be back to our best in the New Year.
Thanks as ever to Chris Moran and Lisa Jobson for umpiring on a very cold afternoon!
---
Ladies 1s were going to play Eastcote. It was icy. Probably best. We were missing a few and the captain lost a fight with boiling water this week so was only really half a player.
Lucky Charlotte had it worst though. Her nice lie in for the 3pm home game got ruined by the 8:45am meet for ours. Sorry we made you set an alarm!!!!
Maybe next year the whole team will be around and no one will pick fights with angry liquids….
---
Ice 1-0 WHE M1/Royston 1.
DOTD: Jack Frost.