Week 10: WHE Men's 2s faced a top of the table clash against Letchworth today – the game carrying extra significance with Letchworth being Grant's former club.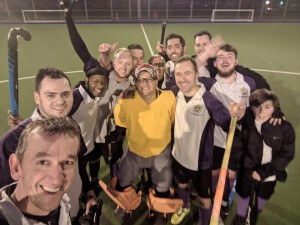 Winchmore got off to a flying start, closing down the Letchworth midfield and creating chances. Craig dropped down from the first XI and added a new dimension up front for Winchmore playing as a target man with the ball seeming glued to his stick. Winchmore had several chances but with some last ditch defending just seemed unable to get the ball into the net.
Winchmore went into half time the happier of the two teams however the match remained goalless.
Letchworth started the second half looking tired allowing Grant, Dom and Rob to dominate the midfield and continue to create chances. Eventually the ball was passed into the D and controlled by Leo with his back to goal before slotting the ball past the onrushing keeper.
This remained the only goal of the game with the defence protecting goalkeeper Nick so effectively he did not have a save to make all day!
---
Today was a day of no's for the ladies 1s
No feeling in our fingers and toes
No skirt for Talyssa (don't worry she had leggings)
No flick for us when it was soooo obvious!!!
No ball for a little bit while chris hid it under her arm.
No goals for us.
No goals for them.
A 0-0 draw. #cleansheet
So DOD is a bit obvious I mean…she forgot clothes… it's Talyssa!!!
But she made up for the lack of clothing by playing amazingly and getting joint MOM with Rachelle. Clearly forgetting your skirt means you run more to make up for the cold and tiger balm on your upper lip helps too…. some weird goings on in the ladies 1s!!! Maybe next week we will all remember our FULL kit…
---
So another week, another few degrees lower and the ladies two's went out to battle Ashford. With only 9 ladies on the pitch (some mistakenly though we had 10! ??) we gave as good (maybe even better) than we got.
An early break from a mainly defensive first half saw the ball fly down the pitch and out of reach, when just at the last minute some fresh young legs from one of our juniors Abi, darted out of nowhere to not only retrieve the ball on the baseline but to take a shot on goal!!!
Unfortunately this first attempt was denied but by this time her fellow winger Kelly Davids had made it up to provide some support in the form of a sweep from the rebound right through the goalies legs!! What great teamwork!!
The rest of the match remained an extremely defensive game, with Ashford using their two extra players as best they could, but let it be said that the WHE ladies 2's did not make this easy for them, there must have been a thousand chances shut down and cleared beautifully from our goal line.
We managed to hold on to a 2-1 loss (despite Ashford beating a team last week 14-0!) with some really sexy hockey, short sharp passes and excellent work and effort all round!! Keep up the great work girls, we are gelling beautifully as a team!!!