Week 20: The men's 1st team had an almost completely different line up against Royston from their first game of the season heavy defeat.  So a late Saturday afternoon start at home was some means of payback.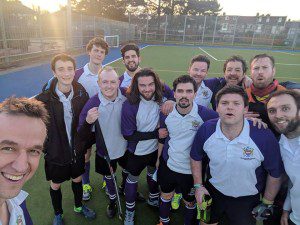 After the previous drubbing it was decided to beef up the midfield leaving only two upfront. The tactic worked particularly well with Craig Jackson man marking their midfield stalwart out of the game. A strong defensive performance by the team frustrated the opposition and our finishing was superb. A top short corner finish from James Gatting and first of many Joe Turmaine flashes of Genius in the D found us a strong 2-0 half time score.
The half time call was for more of the same and be aware of the likely Royston onslaught. While Royston grabbed some possession they didn't threaten much. Cheered on by the ladies, Winchmore Hill built on the first half to right the wrongs of the last game and equalise the goal difference.
Both forwards Joe T and Harry Stone seems to thrive on the crowd pirouetting to their satisfaction with Joe going on to a magnificent hatrick.
Great performances throughout, a second for Jimbo from another short along with a superb return for James Flemo Fleming made for one of the best games of the season. Even club captain Dominic Smith got in on the act with a classy lifted hit in off the post.
One slip saw a consolation for Royston but a 6-1 win was more than well deserved. Special mention to defence if Joshua James Rider, Harry Franks, James Gatting and Matt Dray for keeping solid throughout.
John Adam Elliott Lappin had another left midfield impact building from last week with important interceptions. The biggest mistake from Royston was not picking up Sam Turmaine in his free roaming role which he exploited perfectly to control the pace of the game.
---
Despite complaints in previous weeks that it was far too cold to play hockey, the glorious sunshine did not invigorate the Ladies 2s today (indeed, there were even some complaints that hockey is a winter sport and that it was far too hot to run around!) A great effort from all left us at an almost 1-0 defeat. I've decided to ignore the short that Harrow slotted past the keeper with the last touch of the game.
The young-uns are coming along awesomely; Erin in beautiful positions on the right, Abbi running up and down the sideline, tracking back like an absolute queen and Ellie doing the boring, thankless but necessary job of marking Harrow's right forward out of the game. Us Oldies didn't do too badly either. A lot of composure under pressure (mostly, right Pippa?
) and communication meant some sexy hockey all round.
Thanks to Chris for doubling up for us and Beth and Bethany for umpiring.