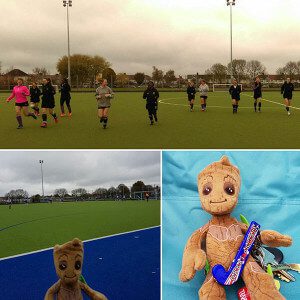 Week 8: Citrus fruits are always tricky to peel at first and the tangerines
 of St Albans were certainly no exception. The home side scored two without reply in the opening stages, but WHE Men's 1s kept digging in their fingers and eventually exposed the soft and squishy interior of their opponents. Man of the Match Adam Machray pirouetted elegantly
 to make it 2-1 by half time. A pithy exchange at the start of the second half resolved itself with two goals for Tim Mall, leaving a sour taste ? in the mouth of the home side and putting WHE into an unassailable 3-2 lead. Captain Stuart Carrick and Dominic Smith were tireless.  St Josef Turmaine provided a target up front and younglings Harry Stone and Rafi Zeff ? were a great counterbalance to the vintage John Lappin and Jake Sumner? in midfield. Matthew Dray and Martin Dwamena supported James Gatting at the back, who marked his return with a solid performance. With Joshua James Rider in goal.
WHE were certainly no lemons
 and will seek to pip Vauxhall ? at home next Saturday.
M1 v Vauxhall
Home (Aylward Academy, 1 Windmill Rd, London N18 1NB)
Saturday November 18, 2017 @ 1:30 pm
There once was an oppo unbeaten
But Winchmore stepped up to meet 'em
Great play from all
Despite Gemma's fall
Did much the 6-0, to sweeten
Amazing hockey from the Ladies 2s against #unbeaten Ealing. Everyone really stepped up and the newbies were fantastic. There was some brilliant defensive hockey from WHE in the second half. Man of the Match was really close between goalie Freya and Abbi, but it was Abbi who nabbed it! Unfortunately, the match ended with a broken Captain and a 6-0 defeat ?. Onwards and upwards for the 2s, bring on next week away against Teddington!
Teddington Ladies' 6 v L2
Away (Teddington School [THC], Trowlock Way, Broom Road, Teddington, TW11 9PJ)
Saturday November 18, 2017 @ 1:00 pm
Saying it was a game of two halves for the Ladies 1s is an understatement! WHE took control from the starting whistle with some great passing and movement on and off the ball. The 1s dominated the first half with fantastic attacks and created several scoring opportunities. A welcome back to Gemma Gatting (congrats!) with a beautiful clean strike from a short corner but their 'keeper somehow managed to get her foot to it! WHE were unable to convert any of the chances into goals. The half-time whistle blew three minutes early which meant, despite having had a positive team talk, a baffled team went into the second half lacking focus. A few errors gave Hendon & Mill Hill an early goal. Heads dropped more and the oppo took full advantage, scoring another 2 goals. WHE finally woke up with 10 minutes left of the game and Beth managed to score a well-deserved goal. The first goal for the 1s since Match 1! Too little too late unfortunately. Final score 1-3.
Man of the Match was Beth Deane! Soo adaptable and made a difference to the game in every position she played! ??. The 1s will be looking to collect some October points away against Staines.
Staines Ladies' 2s v L1
Away (Staines Hockey Club, Worple Rd, Laleham, Staines, Middlesex, TW18)
Saturday November 18, 2017 @ 11:30 am
The Men's 2s remained unbeaten without hitting a ball in anger, as the opposition conceded! #runningscared. They are wanting another win next week away against Luton Town.
Luton Town 4 v M2
Away (Challney High School for Girls, Addington Way, Luton, LU4 9FJ)
Saturday November 18, 2017 @ 3:00 pm