Week 17: Men's 1st XI.
It was always going to be tough against top of the league Blueharts with an unusually early start of 10:30.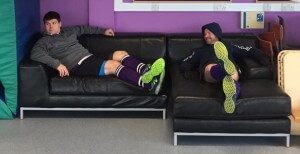 While the opposition had the majority of possession WHE held there own in the first half producing some threatening attacks and short corners if their own. 2-0 at half time to the league leaders flattered them (at this stage) with a couple of break away goals.
In the end the opposition were better overall and deserved their points. A 6-0 final score was somewhat harsh given the effort put in by our boys.
Nothing we know we can't bounce back from against Hertford next week.
---
A simple explanation of what the ladies 1s have been getting wrong. Fortunately we did put the ball in their net. We did however let them put the ball in our net too.
Final result 1-1
MotM goes to our two amazing players who left our home game at half time to travel all the way to slough to give the Ladies 2s a fighting chance of 10 players instead of 8!
Huge thank you to Bethany and Karen!
DotD goes to the one who forgot her shirt, Talyssa!!!
---
Mens 2's v Stevenage: Dom to the rescue!
On a freezing cold and wet day the brave 11 ventured north to Stevenage and found amazingly our mid table hosts had 17 players!
Some clearly had come from the higher teams and with them providing both umpires it was clearly going to be a real test of our resolve to keep our bid for promotion alive.
In what was a fairly dour 1st half we failed to turn our dominance in to goals and nearly paid with Stevenage whacking the ball miles down field to their ogre upfront. Fortunately he was fat and useless so missed two clear chances!
Much geeing up at half time led to a better first 20 mins of the second half with Dom and Martin dominating midfield. Sadly we still failed to capitalise on several chances including our short corners.
Disaster… we received a shocking umpiring decision and lost concentration which allowed our opponents to intercept and score with their only shot on target.
With Leo now carrying an injury Grant went upfront and immediately deflected a shot on to the post and along their goal line.
It really looked as though it wasn't going to be our day?
Time for a hero in the shape of our club captain and superhero Dom Smith.
7 mins to go he crashes in a short corner leaving their keeper stranded.
2 mins later Dom dribbled in to the D and smashed in the winner.
This was a game that shows the value of team spirit and keeping going.
Dom aside their were no outstanding performances but all worked hard and dug out what could prove to be a crucial win.
Thanks goes to those who doubled up to keep our promotion push on course.
Well done lads! ???