Week 16: After many a Saturdays moaning about really early starts for hockey the Ladies 1s finally got a lie in (minus the deane team who love getting up ridiculously early) Apparently we don't like really late starts either!
The game went like this. Southgate scored 4, we scored 1 (excellent play by Lucy and Beth) it was very very cold.
MotM to be confirmed. Currently a tight race between Gemma for her great defending and Lucy for her great play upfront despite a nasty knock to her hand.
DotD goes to our ever present umpire Chris Moran who had to stop play to run off the pitch and tie his shoe laces! Special mentions go to Samantha for 'that' hit out, Rachelle for just generally being herself and kicking water at the whole team and finally special mention to the snow that cancelled Sarah E-Qs trial for England's 'u21s' trial.
Massive thank you to our supporters Lucky Charlotte Lisa James and Pippafor standing out in the freezing dark and cold long after their games in the rain!!!
---
On a very wet and miserable Saturday, the ladies 2s turned up with keen and eager(ish) players against 2nd in the league, Ham and West, who beat us 10-2 last time round. Now, with super-keeper Freya, and a full eleven, thanks to Julie Bull, who stepped up to play all the way from Brighton, our aim was to stay in single digits! What we weren't expecting was to keep them to a single goal.
A lack of defenders led to an inventive formation with Seren, Charlotte and Kate all playing key roles in our half of the pitch. A real effort by the young ones to get stuck in and they hassled more experienced players into making mistakes.
An unremarkable goal early in the first half saw Ham&West take the lead but they became more and more frustrated throughout the game as they failed to convert their chances. Yours truly tried to spice things up when I shot straight at our own goal, earning myself a desperate "NOOOO!!" from Charlotte, disapproving looks from the rest of my team and a well-deserved dick of the day award. Luckily, I'm a crap shot.
All in all a great game in truly pants conditions.
Thanks to Beth and Bethany for umpiring!
---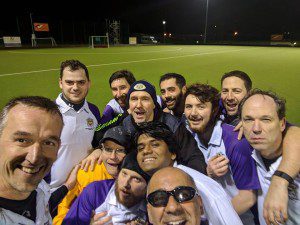 A solid Mens 2s squad went away to play at St Albans HC & hopefully return to winning ways.
Wingers Ben, Robert, Joseph and Asit peeled off wide & deep allowing the defence to press & contain the Tangerines in their own half.
A strong pincer attack consisting of Leo, Dom & Grant put pressure on the Tangerines.
Nick returned as goal keeper & Eray scored for the 2nd consecutive week (twice!) squeezing out a juicy 3-0 win (& no pips).
Next week we play at Stevenage @ 1pm SG1 4AE
(report by Hitesh)