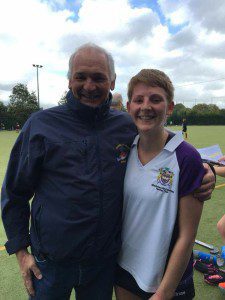 Week 5: It was Parents' Day for the Ladies' 1s with 4 players' parents supporting from the sidelines away at Chiswick!! 0-0 was a fair result in the end. There was a clean sheet for #TeamDefence and quite a few chances up front, including Bethany McNamara hitting the post! WHE were also unlucky not to get awarded more penalty corners. The #DeaneTeam put in a good work rate throughout the match and it was a close call but Little Sister Samantha just pipped Beth to Man of the Match.
Next up is a home game against top of the league Harrow. The Ladies' Summer A team caused a huge upset when they beat "9 wins out of 9" Harrow 5-0. The 1s are hoping history can repeat itself!
L1 v Harrow Ladies' 1s
Home (Aylward Academy, 1 Windmill Road, London, N18 1NB)
Saturday October 28, 2017 @ 12:00 pm
A strange one for Men's 1s this week. They just didn't get started and went down 3-0 early on. However, WHE kept working incredibly hard and in the last 15 minutes managed a remarkable spurt of three amazing goals from Tim, Craig and Adam. Alas, this was not enough as the final score was 9-3 to Blueharts! The 1s have got the work ethic sorted, the next step is getting their sweet 15 minute spot at the start of the game and then increasing it to 70 minutes! They'll get their first chance to try this out away at Hertford.
Hertford 2 v M1
Away (Hertford Hockey Club, 18 Mangrove Rd, Hertford, SG13 8AJ)
Saturday October 28, 2017 @ 1:30 pm
The Ladies' 2s are ready to continue their great start to the season, which has the 2s scoring two goals in both games played. They are currently sitting in third place in Division 3. Next up is a six-pointer against fourth place Eastcote!
L2 v Eastcote Ladies' 5s
Home (Aylward Academy, 1 Windmill Road, London, N18 1NB)
Saturday October 28, 2017 @ 1:30 pm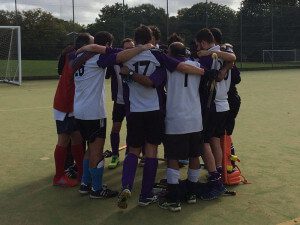 The Men's 2s kept up their unbeaten record with a 1-1 draw away to top of the league Southgate Adelaide. A tight first half saw few chances at either end, with the game finely balanced 0-0 at half time. The stalemate continued well into the second half until Adelaide took the lead with about 10 mins to go when the ball rolled free to an attacker to slot home after some scrappy play in the middle of our D. But a tactical change from WHE, pushing Grant Wisson forward, immediately made a difference. Some good interplay from a sideline ball down the right-hand side resulted in a neat pull back to Grant by the penalty spot, who slotted past the 'keeper with a smart first time shot into the bottom corner. 1-1!
The game nearly finished in disappointment as Adelaide appeared to score from a last-minute penalty corner, only for it to be disallowed as the ball didn't come out of the D first. Phew! In the end, 1-1 a fair result after a hard-fought battle.
Big thanks to Leo Fernandes for playing in goal for the 2s today. After joining us at Back to Hockey in Summer, this is his first season playing hockey. He's already scored a goal and now saved some today too! Also, a special mention for Rob Ulph putting in a solid performance on his debut. They are looking to keep the unbeaten record going in the next match, at home against Welwyn Garden City.
M2 v Welwyn Garden City 3
Home (Aylward Academy, 1 Windmill Road, London, N18 1NB)
Saturday October 28, 2017 @ 3:00 pm