The under 12's boys (plus one girl) went to Hitchin very early this morning and should very proud of their performance. They won 2, drew 1 and narrowly lost one.
They scored 3 goals, well done Cameron (2) and Theo (1). Team defence John, Jamie, Kirsty and Alex only conceded 1 goal in total. Tom and Vinny attacked with gusto and the teamwork was fantastic. Thanks must also go to Guy Chapman for organising the team and keeping them motivated and all the parents for their support.
Finally, being part of a club is all about commitment, our kids showed it in spades today, one in particular deserves a special mention, Kirsty. She played in this mornings tournament then when she heard the under 10's might be short was more than willing to help out, she then shook the collection bucket for good causes round Enfield in the parade of light.
---
A tough afternoon for the U10s playing in the Herts junior league at Hertford today.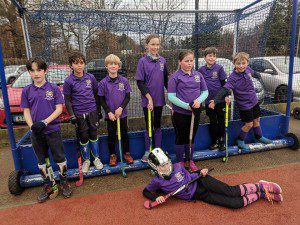 They were mistakenly put in Pool A against all the strongest teams, instead of the usual Pool B – Hertford probably seeking revenge after our men's 2s beat them yesterday!!! However after being well beaten in the first game by Hertford A, they battled back tremendously earning a fine draw with Harpenden, before narrow defeats in the final two matches against St Albans A and Blueharts A.
Great performances from Harriet in goal, William and Kirsty in defence (who took three big hits on the foot!), Liam, Ben, Robbie and Emily in midfield, and Zafar playing upfront. It would have been very easy for their heads to drop after the first game, but I'm so proud of how they fought back in the remaining games. Well done all.