U12 Boys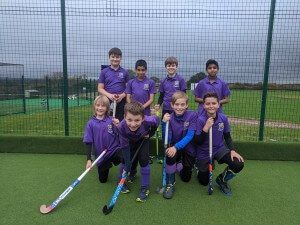 Well where do I start…?! What a day for our boys Under 12s!
An early start and a trip up the A1 to Blueharts hockey club in Hitchin, was rewarded with fine weather (thankfully!) and even better hockey from our boys. Facing the usual suspects of Letchworth, Hertford and the host club Blueharts, there was an air of the unknown as we watched Letchworth comprehensively beat Hertford in the opening game, so we knew there would be tough matches ahead.
First up we faced Blueharts, and Winchmore were on the attack almost immediately as Siva took hold of the midfield and combined well with Zafar, Arran and Liam in attack to put the pressure on the home team. Within 3 minutes we were one nil up, with a well worked goal finished off from the left by Arran. Then a second goal from Liam, followed by a third from Siva, this was almost too good to be true! Then a fine move started on the right by Zafar who won the ball back, dribbled up the wing before passing into the D where it was slipped inside to Albert who expertly swept the ball past the keeper to make it 4. But Winchmore we weren't finished yet and, shortly before the end of the match, Liam scored his second goal, making the final score 5-0. An incredible all-round performance, with solid defence when needed from Joseph, John and William, snuffing out the few chances created by Blueharts.
Winchmore were straight away back in action against a strong Letchworth side who we had seen take apart Hertford in the opening game. But our boys started strongly, taking the game to the opposition, and it was once again Arran who popped up on the left side with a well taken goal following good team play from Siva, Zafar and Albert. But Letchworth were not phased by conceding a goal and soon were putting pressure on the Winchmore defence. Nevertheless some great reverse stick tackling from Joseph, jab tackles from William and then a brilliant goal line clearance in the last 2 mins from Liam, meant our boys held on for a hard earned 1-0 win, and a welcome rest after 2 consecutive games.
Back on for the final match versus Hertford, the boys were confident and had already worked out that a draw would be enough to secure victory in the tournament. But there was no sitting back and playing safe. A change of line up with John moving to striker and Albert dropping in to right midfield and the boys were soon on the attack again, with John closing down the Hertford defence and forcing loose passes which we were able to intercept in midfield. Goals continued to flow freely, first from Siva with a well struck shot giving the keeper no chance, then Liam, Zafar, and finally Arran again making it a final score of 4-0. Another very impressive performance, meaning the team finished having played 3, won 3, 10 goals scored, and none conceded!
The team played so well, working together with solid defence, good marking, and great teamwork (something the adult teams could learn from!!), and everyone should be so proud of how they played.