It was another busy weekend for the Junior section as we hosted a girls U12 tournament at Southbury Leisure Centre, as well as sending the boys U12 team to Broxbourne and running our usual Sunday morning training session for the rest of our junior members! Check out our tournament reports below.
Girls Under 12s @ Southbury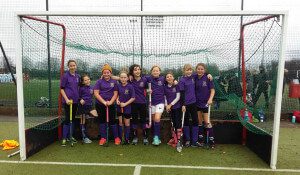 Our under 12's girls team turned up to our first home tournament of the season with a determined attitude. Their first match was against a strong (and tall!) Broxbourne A team. Solid defending from Kirsty, Molly and Alize couldn't stop Broxbourne putting three past us.
With the arrival of the rest of our team (who had just finished swimming club!) we came out strongly against Blueharts A's and were unlucky to concede one goal. With our third game we were starting to work well as a unit, using the width of the pitch and attacking with gusto.
Our final match, against Broxbourne B's was our best game by far, with some fantastic runs down the wing from Harriet, linking up with Kirsty, who scored our first goal. Our second goes to Harriet, when her shot on goal was stopped on the line by an opposition foot. With no short corners, the umpire quite rightly gave a goal.
This is a team brimming with potential and they should all be very proud of their performance.
Well done Alice, Alize, Emily, Edie, Kirsty, Molly, Mary, Grace and Harriet.
A final massive thanks to Charlotte Gonella and Lisa Jobson for organising, timing and umpiring.
Results
Broxbourne A 3 – WHE 0
Blueharts A 1- WHE 0
Blueharts B 1 – WHE 0
Broxbourne B 1 -WHE 2
---
Boys U12s @ Broxbourne
The boys Under 12s ventured to Broxbourne for the next round of the Herts junior league with matches against Royston, Harpenden and Blueharts.
First up was Royston and our boys battled hard, but Royston just had that bit of extra quality in attack and ran out worthy winners 2-0. After a game off and a chance to re-group, we came out fighting against Harpenden, and in a very tight game created several chances in attack with Luca epitomising the effort from the team – sprinting half the length of the pitch and then sliding into the opposition goal but just unable to get the final touch needed to score. Harpenden snatched 2 goals to run out winners, which didn't reflect the even game.
Straight on again for our final match against Blueharts and it was all about the opposition keeper who kept out great shots from Luca, Ben and Zafar, before our boys tired in the final minutes with Blueharts taking advantage of us not having a keeper to bundle in 3 quick goals.
Lots of great tackling, passing and hard work across the team: Thomas, Joseph, William, Harry, Zubin, Ben, Zafar, Lukas and Luca; and next time we'll definitely be looking to have a keeper which could make all the difference in those tight matches.
Results
Royston 2 – WHE 0
Harpenden 2 – WHE 0
Blueharts Panthers 3 – WHE 0