The season may be over but you won't be bored this summer as there is no shortage of club events! We have a packed calendar with ladies and mixed teams in summer hockey leagues, World Cup socials and recruitment events.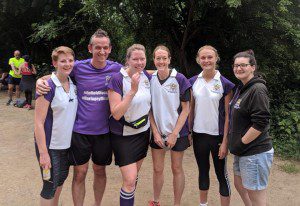 Our campaign to bring hockey to Haringey kicked off at the Ally Pally parkrun on Saturday 9th June. The borough of Haringey has no hockey clubs but our home pitch at Aylward Academy is so close to the border and easily accessible by public transport, that we feel we're in a great position to open our doors to Haringey residents.
We are hosting Back to Hockey sessions at Fortismere School, N10 at the end of June. These sessions are aimed at new and returning players who would like a gentle introduction or reintroduction to the sport! In order to reach as many residents as possible, we are participating in a number of Haringey based events in the run up to the sessions.
Full details of the Back2Hockey campaign can be found on the B2H page.