From Swanage to Biggleswade and Roydon to Jakarta the Enfield All Stars assembled and the Winchmore Wanderers returned for our inaugural Christmas charity match in aid of Hockey for Heroes. Blessed with dry weather, if not blazing sunshine, there were a few apprehensive faces as the match got underway with several players donning the yellow of Enfield or the white and purple of Winchmore for the first time in many years. In fact, at least one player (who shall remain nameless) managed to do his back in before the match even started – but in true Enfield style, who needs a warm-up anyway?!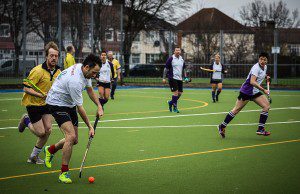 A cagey opening 15 mins was notable only for the Sparreys trying to hit each other with the ball (!) as Graham and Rosemary faced up to each other on opposite teams. But the match finally came to life and the All Stars took the lead when Mark Gray tapped in from close range at the far post. In fairness, this was slightly against the run of play, following good attacking play from the Wanderers and some fine individual skills from Daniel Clarke and Luke Trevill dancing round the All Stars defence. But Gray's experience showed at the other end as he knew exactly where a goalscorer should be…and proceeded to stand there for most of the game.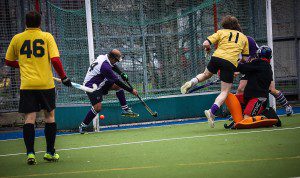 The All Stars soon went 2-up as Kris Prentice followed up on a well struck penalty corner to knock the ball past Balazs in goal, before the Wanderers responded with their captain Beth Deane leading from the front to score in her final game before heading off on her travels. 2-1 to the All Stars, but shortly after it was 3-1 as the ball arrived in the D once again on a tee for Mark Gray to score his second of the match.
A quick change of umpire at half time freed up an extra player and provided some more youth (!) for the tiring legs of the ageing All Stars team, and it wasn't long before Gray completed his hattrick, waiting patiently (standing still) on the penalty spot to deflect home a well-placed pass from Sam Deane on the right to make it 4-1.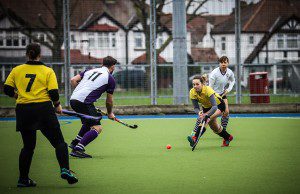 The Wanderers fought back with a well taken goal from Clarke, before Chris Burd restored the 3-goal lead, sweeping home from close range, and then Gray scored his fourth, hammering it through Josh Rider in goal from his customary position on the penalty spot. 6-2 and all over bar the shouting, but for a final goal for the Wanderers with Clarke and Trevill combining well to guide the ball past Nick Smith in the All Stars goal.
Final score: Enfield All Stars 6 Winchmore Wanderers 3. A great afternoon meeting up with friends old and new. But more importantly raising £483 for Hockey for Heroes / Help for Heroes.
Many thanks to everyone who organised, played, umpired, supported, baked cakes and donated to the raffle. Your support is hugely appreciated and will make a difference.
If you didn't manage to make it along on the day, you can still donate by going to: https://www.justgiving.com/fundraising/hockey-for-heroes
Keep an eye on our website and social media pages for details of future events and charity matches.