WH&E Mixed 0 : 8 Luton Mixed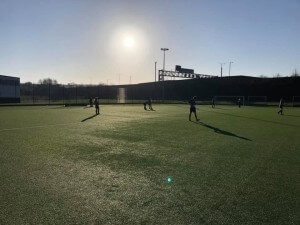 A slightly depleted Winchmore side made their way up the M1 to Luton for our England Hockey Mixed Tier 2 Championship match on Sunday.
We enjoyed a bit of possession in the early stages but (not unsurprisingly) they scored quickly with a break into our D. They had a few well taken short corners but only scored one. However, it took an impressive individual goal that quite literally took Balazs Endrodi's helmet off to get another one past us.
The next goal was another short corner – Sarah E-Q got a stick to it on the line but couldn't keep it out. Meanwhile, Leo had a shot and tested their 'keeper but all the real pressure came from Luton. Balazs and the defence made save after save, including a beautifully saved short corner and a great dive to his right. Half time 4-0.
After the break, Sam Deane hit a nice long ball in to the D which deflected on to the GK but unfortunately there was no one there to follow it up. Soon after, Jason had probably our best shot of the game from top D and we enjoyed a period of good passing. Again, they had a number of short corners which we saved – the highlight of these being Sam getting out and taking possession from the striker at the top of the D.
However, there was no arguing with the next goal – the guy ran through our team and absolutely roofed it! (to cries of 'don't break the net' from the sidelines?).
The rest of the game continued with excellent 'John Terry' defending from everyone including a great tackle by Nick at the top of the D to keep the final score at, sounds worse than it was, 8-0.