WH&E M2 5 : 1 Stevenage M4
The M2s faced Stevenage at home in the final game of the season, knowing that only a win would keep the promotion dream alive.
However, it was Stevenage who opened the scoring early in the game with a well taken penalty corner slotted past Balazs Endrodi in the Winchmore goal.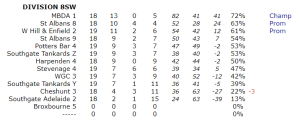 Although having most of the possession, Winchmore struggled to capitalise and put the ball into the net. Eventually Pete Morton showed the rest of the side how to play as a forward, appearing from behind the defence to burst onto the end of a long ball from a side line hit and deftly deflecting the ball past the keeper to level up the score. Not content with one goal, Peter continued to play with a ferocious intensity and quickly grabbed a second goal to give Winchmore the lead at half time, 2-1.
As the second half began, short corners were again free flowing for the home side and Dominic Smith made it 3-1 with a well finished flick. Leo then scored the fourth having dribbled into the D, the umpires played the advantage following a clumsy stick tackle allowing him to finish with a low reverse stick shot.
The final goal was courtesy of a Joe Small strike from yet another short corner that was slotted home by Asher following a botched clearance from the defence.
As the final whistle blew on the 2019 season a 5-1 victory was a fitting way to end the season, although news had come through that St Albans 8 had narrowly defeated Southgate Tankards Z 3-2 meaning that Winchmore would finish 3rd in the league and miss out on promotion by one place.
That was until the East League decided later that night that 3 teams would be promoted after all! A fitting end to a great season for a new look M2s team, and two promotions in two years!
MOTM – A true team player Peter Morton for excellent attacking play and 2 goals.
DOTD – Southgate for losing to St Albans 3-2 allowing the Tangerines to finish in second place above Winchmore. But then it didn't matter after all!
Thanks to Michael Dutnall and Adam Machray for umpiring.
---
WH&E M1 1 : 2 Hertford M2
No match report, yet…
---
No ladies matches this week…