WH&E L1 2 : 0 Eastcote L2
The Ladies 1s were up against Eastcote on Saturday, playing their 2s at home.
With our word of the day being 'Confident,' we were preparing to go out and play some great basic hockey and keep our cool even though some of our usual squad could not play this week.
We started strongly and managed to score in the first 10 minutes with some lovely passes throughout midfield up to Caroline Briers to sneak in the goal.
Eastcote were always fighting for one against us, but Team Defence managed to keep their cool despite a few short corners to defend against, which Mia confidently stepped up to run for.
After half time it was fair to say we started to get a bit tired. Lots of balls going up in the air, including one from Sam Deane (aka Dick of the day!) who tried to take out Bethany with a free hit. Apparently she was "testing her reflexes"… They're thankfully great.
Another ball which went up in the air came from our attack which Lucy Mackay managed to hit back down straight into goal in a motion which looked more like self defence than anything else. It's safe to say that we were all shocked at the goal, including Lucy herself.
Honourable mentions this week to Beth for great running and perseverance up front, Lucy for the fantastic goal and travelling 2hrs from West London to her first match in a year and a half; and Sarah for some great defence and blocking. Man of the match this week goes to Mia who kept her cool in her first league match for the 1s and made some great movements and passes in the middle of the field.
Final score 2-0 to us. We are the only team in our league who has not conceded any goals!!!!!!!!! Thanks to everyone who came to support this week!
---
WH&E M1 2 : 5 Shefford & Sandy M2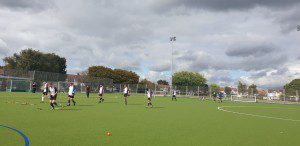 The men's first team were aiming for victory in their first home match of the season, with the visitors arriving from Shefford & Sandy shortly before the start of the match. However, after some good initial possession things didn't go according to plan with a goal from the opposition bundled in after the ball rolled free in our D. Not to be downhearted, Winchmore proved that good passing and possession play can reap dividends and shortly after it did, with Joe Turmaine finishing off a good move by rounding the keeper and reverse flicking the ball into the goal at the near post.
But a defensive mix up when the ball looped up in the D off one of our sticks resulted in another soft goal conceded as the ball was tapped in at the far post by one of the opposition. Another goal followed soon after making it 3-1 at halftime.
In the second half, Winchmore continued to play some nice passing hockey, but the visitors bundled in 2 more opportunist goals putting the game out of reach before Winchmore grabbed one back near the end with a nice move down the right finished off well by Sam Turmaine. 5-2 the final score, but somehow that didn't reflect the way we played for most of the game.
---
WH&E M2 0 : 4 Shefford & Sandy M3
The M2s travelled to Sandy to face an experienced side there and whilst we started the first half badly, we quickly improved and grew into the game with some deft dribbling and quick counter attacks from Harry Stone and Thomas C, testing their defenders pace. The new players John, Tom and Theo played well nutmegging their defenders too many times to count. Some nice interplay from Hitesh to get us out of defence saw us consistently work the ball into their final third but we were unable to get many shots off.
At half time it was decided that the game was close but that it was ours if we went for it. And so we did, putting Luke upfront and John Lappin in a more attacking position. And we started well, keeping our first half form but our positioning began to fall apart and it wasn't long before they scored out of nothing. Soon after a second goal came and before we knew it they were 4-0 up and Winchmore were left scratching their heads wondering how it happened.
MOTM was Balazs for keeping us in the game for as long as he did and making some fantastic saves.
---
WH&E L2 2 v 5 Ashford L5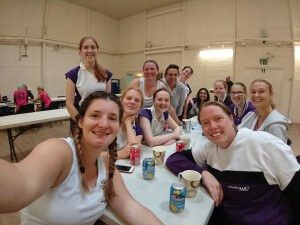 The L2s faced Eastcote in the early hours of a September Saturday. Despite not having a goalie or Pippa's face mask, we remained determined to score goals; at times attempting rugby tackles- cough Pippa!
A very tight first half didn't reflect the overall score or everyone's efforts. Abbi's first goal in the early minutes of the game, equalising the score, kept the morale high and hopeful. Towards the end of the first half we had lots of fantastic, fast balls up the left side of the pitch-with Louise's debut in mid.
Our pace during the second half was kept fast by our consistent smooth passes- long and short- up the pitch, resulting in a second goal by Ellie. The score should've been 4-2 due to a dodgy short corner but that didn't let us lose our determination or positivity. Overall a good first match of the season.