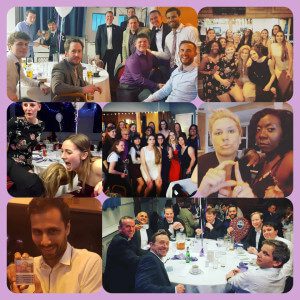 After a season with many highs (and a few lows) the club celebrated recently with its annual dinner and awards night at the clubhouse, with a great turnout from across the club.
Ladies
It was another tough season for the L1s in a very competitive Middlesex Premier Division finishing in 11th place having played 22, won 4, drawn 5 and lost 13. In any other season this would've meant relegation but due to a combination of results in the leagues above they escaped relegation once again with only one team going down from the Premier Division. Phew!
The L2s faired much better, with a young and exciting squad maturing quickly and producing some brilliant results throughout the season and pushing hard for promotion, eventually finishing 6th in Middlesex Division 3 with stats of played 24, won 10, drawn 4 and lost 10. Well done ladies, lots of promise for next season!
Men
The M1s started the season slowly (again!) before finding their form in November and surging up the table to 4th place just before Christmas. However, a combination of injuries and coming out on the wrong side of some tight matches in the second half of the season saw the team finish in 7th place in East League Div 4SW having played 22, won 9, drawn 2 and lost 11.
Following last year's promotion the M2s faced new challenges in Div 8SW, but with a young squad rapidly growing in confidence, the team stepped up magnificently returning great performances and results week after week, eventually finishing in 3rd place and securing back to back promotions with stats of played 19, won 11, drawn 2 and lost 6. Well done guys!
Awards Winners
Ladies
Top Goalscorer: Abbi Bailie-Sills (12 goals)
Young Player of the Year: Ellie Bolton
Player of the Year: Sam Deane
Men
Top Goalscorer: Tim Mall (17 goals)
Young Player of the Year: Rafi Zeff
Player of the Year: Stuart Carrick
Club
Team of the Year: Men's 2nd XI
Person of the Year: Balazs Endrodi