WH&E M1 3 : 0 Bishops Stortford M3
The Men's 1s were at home and hunting for 3 points against Bishops Stortford 3s, having already played out a draw with Stortford 2s earlier in the season.
In a very tight first half it was clear that this was not going to be an easy game, but Winchmore didn't panic and stuck to the plans of a solid passing and possession game. And that patience paid off when the deadlock was broken shortly before half time – a diagonal aerial into the opposition D was brought down by Adam Machray who passed it inside for Colin to smash past the keeper and put Winchmore 1-0 up at the break.
Back out for the second half and it was more of the same – good possession, passing and movement brought two more goals – the first from a nice move down the right which Harry Stone swept home from near the penalty spot. The second from Stone again, this time going himself round the back on the right side of the goal before pulling the pass across goal only for a Stortford defender to beautifully side foot it through their keeper's legs!
3-0 the final score and a solid performance all round – Winchmore controlling the game from the back and snuffing out any chances Stortford tried to create. ???
MOTM: James for solid defence and distribution from left back.DOTD: In the first half it looked likedly to be Colin, after putting it wide from close range. But this was easily gazumped in the second half by Adam who rounded the keeper and only had to pull the ball back and pass it into an empty net, but instead choose a spectacular / diving / tumbling reverse stick swipe, with the ball looping up tamely and well wide of the goal ?
---
WH&E L1 3 : 1 Old Merchant Taylor L1
The day started with a player down and Karen Goode on the floor.
We started pretty slow, unable to get any good chances, apart from a strong run from Beth Deane up the wing and a pass to Bethany… But living up to last week, she fell flat in her back instead of shooting. We were starting to slowly improve by the end of the first half but there were still no goals to either team.
As always, we love a challenge, so decided that it would be better to be losing the match just so we could come back and win it, so Mia decided to give OMT a penalty flick with 20 minutes to go so that we could fight back. 1-0 down after the flick…which Chris very nearly saved!! We then came out all guns blazing and fought back hard. 5 minutes later after great teamwork to get the ball up the pitch, Vicki got it into the net to bring us back to 1-1! This got us excited so kept going. Some people were getting a bit too excited though and dick of the day Rachelle got green carded and sent off the pitch for 2 minutes for knocking the ball away…
But that didn't stop us either. A beaut straight shot from Sam Deane on a short corner banged straight to the back of the net to take us up to 2-1. And we still kept going. More hard work from us all managed to get the ball back up into the D and Caroline Briers got our 3rd goal with a beautiful reverse stick flick past the keeper!
Final score 3-1!
MOTM: Sam Deane for her relentless work and non-stop running in defence and midfield.
DOTD: Rachelle for her green card!
---
WH&E L2 2 : 2 Teddingdon L6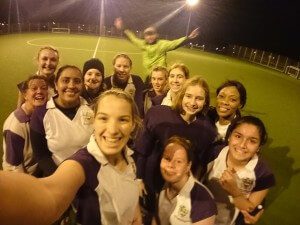 The ladies 2s played Teddingdon in the late game, with Michelle returning from Germany for her debut this season; scoring two goals. Romy played in goal – and actually got a chance to show her skill!
In the first half we played a fast paced, end to end game. Sonya ran lots of fast balls up the pitch, to Michelle and Charlotte who got lots of brilliant chances. At half time, the score was 1 all.
The second half was even faster paced – somehow – with Gem running up from defence and Sonya creating even more chances for Michelle and Ellie. Kate picked up lots of balls that were passed out by the opposition and sent them back into the D for more goals. Our defence was strong for the whole game, and Sula played fantastically – as per usual – in midfield. The game ended with a well-deserved 2-2.
---
WH&E M2 0 : 5 Hertford M4
A tough away trip to Hertford for the 4:30pm push back and not the result the M2s were looking for after a hard fought draw the previous week.