WH&E L2 4 : 0 Eastcote L5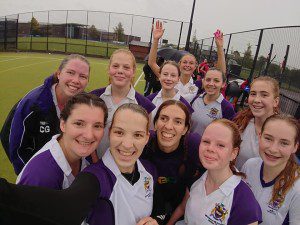 It rained a lot. But it didn't dampen the spirits of the Ladies 2s. The juniors ran the show with a hattrick from Eleanor. Not to be outdone Abbi showed her supreme running skills to go one on one with the keeper and calmly slot the ball in the back of the net. The oldies are going to struggle to keep up with the unstoppable force which is their 'younguns' at this rate!
Thanks to Deaneteam1 for going in goal and being awesome with impossible saves that shouldn't happen but did and Deaneteam2 for turning up and sort of playing centre mid.
Next match: WH L2 v Teddington Ladies 5
September 29, 2018 @ 1:30 pm
Home (Aylward Academy, 1 Windmill Rd, London N18 1NB, UK)
WH&E M2 1 : 0 WGC M3
A new season. New division… but a familiar opposition. The Mens 2's started their Division 8 campaign against WGC who were promoted alongside us having won division 9 last year. Fielding 5 players under the age of 18 combined with some experienced heads would surely be a winning combination?
The game started at a high tempo with both sides looking solid at the back. At the heart of the defence Joe Small looked confident on the ball and was keeping the WGC forwards quiet by winning every 50/50. In his first full game in goal Balazs looked confident in his positioning and mopped up all loose balls giving the opposition no chance of finding the back of the net. With injured Grant marshalling the substitutions from the sidelines, the team attacked with renewed energy but could not get a clear scoring opportunity. With the score 0-0 at half time the game was in the balance, the feeling from both sides was whoever scored first would go on to win the game.
As the second half started WGC defended well against the increasingly attacking WH who pushed hard and won several short corners but were still yet to score. The youthful Winchmore finally broke the deadlock with 10 minutes remaining when Dom took a quick sideline ball and skilfully dribbled into the D to slide a pass across goal to Chris Buff who put the ball past the diving goalkeeper first time to seal a 1-0 victory.
Congratulations to youngsters Jude, Asher and Stan who all had a fantastic game making their senior debuts for the club today.
MOTM: Joe Small
Next match: WHE M2 v Southgate Tankards Z
September 29, 2018 @ 3:00 pm
Home (Aylward Academy, 1 Windmill Rd, London N18 1NB, UK)
WH&E L1 1 : 2 PHC Chiswick L5
1st Match of the season for the Ladies 1s and it was a tough one. Starting in the rain – a proper welcome back to winter hockey.
We started slow, and not ourselves, to create a difficult first half with a lot of defending. Our brilliant defensive ladies and GK did an amazing job, but the 1st half finished 0-2 down.
We used our new found resilience, however, and fought back hard. Played a lot of #sexyhockey with great running off the ball and were rewarded with a goal. Scored byBethany McNamara  and assisted by Beth Deane. Our spirits were lifted and we kept pushing hard. A beautiful run last minute by the Deanes almoat brought us another goal but sadly it wasn't to be. Final score 1-2.
I'm proud of the team today, we fought hard and we almost got there. Confident for the season ahead
Man of the Match to Talyssa Mensah for amazing strength and clearances at the back.
#thesegirlscan #hockeyfamily #watchthisspace
Next match: WHE L1 v Hendon & Mill Hill L1
September 29, 2018 @ 12:00 pm
Home (Aylward Academy, 1 Windmill Rd, London N18 1NB, UK)
WH&E M1 2 : 3 Broxbourne M3
Winchmore started strongly in their first league game of 2018/19. A core of Machray, Carrick and Bilimoria controlled the centre with Lappin and Sumner finding some space in the wide areas immediately. But it was Broxbourne who scored first from a short corner after Winchmore failed to capitalise on some early chances.
Undeterred, Winchmore continued as they'd started and soon after scored two in quick succession. The first came from a solid pass from man-of-the-match Foad into Stone, who deftly flicked the ball beyond the keeper's reach. It was Foad who then converted from an angle with an assist from Cunningham. However, Broxbourne spoiled the party with a breakaway that resulted in their equaliser before half-time.
The defence of Dray, Dutnall and Franks were put through their paces in the second half as Winchmore began to tire, with Smith rescuing Winchmore on more than one occasion with a number of fine saves. After some probing, Broxbourne took the advantage with 10 minutes remaining. Winchmore struggled to find an equaliser, but did well to keep Broxbourne out for the remainder of the game.
The men's first team played a tightly contested game that was edged by single goal. It was a promising performance against an experienced side. Next week will be another tough game away against local rivals Potters Bar.
MOTM: Colin Foad
DOTD: Matt Dray (omitted to bring any hockey balls with him for warm up)
Next match: WHE M1 v Potters Bar M2
September 29, 2018 @ 1:30 pm
Away (Dame Alice Owen's School, Potters Bar EN6 2DU, UK)