U12 Boys @ Southbury Leisure Centre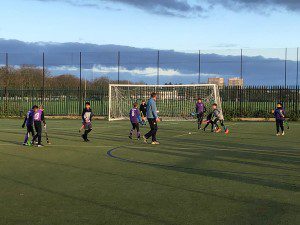 It was a 9am start for our boys U12s, as we hosted the Herts Junior League for the first time this season on a bitterly cold, but thankfully not frosty, morning.
After their heroics at Blueharts in the November tournament, our boys were raring to go with a slightly altered line up as Immanuel, James and Joseph B were added to the squad.
In the opening game against Harpenden, they picked up where the left off with great passing and interplay between midfield and attack seeing Winchmore take a 2-1 lead halfway through the game, with the goals coming from Zafar and Siva. However, Harpenden were a good side and after picking off some misplaced Winchmore passes they counter-attacked at speed, scoring 3 more goals to run out 4-2 winners in an exciting end-to-end game.
After one match on the sidelines, our boys were soon back in action again, taking on Royston in the next game. However, defeat in the first game had knocked their confidence and despite creating some good chances in attack they were unable to convert. Royston then took full advantage of a couple of missed tackles to score twice and take the win 2-0.
After the loss of Liam to illness, we regrouped and took the fight straight to Hertford in the final match of the day. And our boys were soon back to goalscoring ways as Zafar got his second goal of the day and then Albert swept the ball home to seal a comfortable 2-0 win.
Played 3, won 1, lost 2, but lots of great play in all areas of the pitch once again, and some lessons learned too on the importance of accurate passing and making those tackles count. I'm sure the boys will be itching to get back in action again in the next round after Christmas.
Big thanks to all the parents who braved the cold to support, and of course to Lisa and Charlotte for organising the tournament on behalf of the club.
---
U12 Girls @ Hertford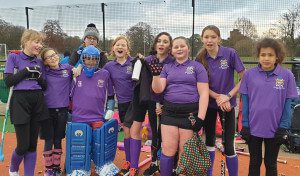 The under 12's girls' team were in good spirits for their tournament in Hertford – they had even created their own WHEHC chant!
Our first game was against Hertford A's, we fought hard against a well drilled team and went down 2-0. Our heads were held high.
Our next game was a battle against Broxbourne. This time we had a secret weapon, new goalie Bhavya, who played a blinder. We were unlucky to lose 1-0.
Next, we had Welwyn Garden City who we were again unlucky to concede a goal to. Final score another 1-0 defeat. Special mention in this game goes to our solid defence. Unfortunately, in this game our goalie sustained an injury and we didn't know if she would be able to continue….
… She did against Hertford B's and with a fantastic team spirit we smashed the next game 1-0. The goal was started with a great run down the wing by Harriet and a strong strike by Kirsty. BOOM, our first win.
Buoyed by our first win the team went into the next match with an increased confidence. Unfortunately, we did not have a goalie, but it didn't stop us. BOOM 2 goals, courtesy of Kirsty! (#Proud Mum on the sidelines!!). Harpenden 0, WHE 2. What a result!
Our last match was against North London and we held our own. The defence was strong, the midfield used the space well and the attack were tenacious. We were happy with a 0-0 draw.
This team are the future of our club and based on their performance today the future looks very bright indeed. Molly, Emily, Alice, Alize, Kirsty, Layla, Bhavya and Harriet all played their socks off and should be very proud of themselves. Special final mention to the parents who came to support and finally to Callum Hall on his umpiring debut.
Onwards and upwards.