Week 14: The men's 2s were the only team back in action today, but picked up where they left off before Christmas with a comfortable win over Southgate Adelaide 3s.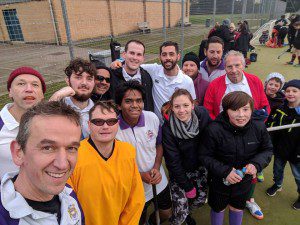 On a pitch unaffected by overnight frost, Winchmore started well and quickly took advantage of plenty of space in the opposition D with Leo finding the bottom left corner with an angled shot past the keeper. Then a quick break through the middle saw a fine pass from young Thomas to his (slightly more senior!) strike partner, Colin Angel, who showed all his experience to slide the ball past the oncoming keeper, 2-0. The half finished with Jonathan Pitcher turning on the left of the D before clipping the ball into the far corner making it 3-0 at the interval.
A change of umpire at half time enabled the opposition to change around their midfield and push their best player into attack, resulting in a quick goal against us, 3-1. However, after the brief wobble, we soon regained our composure and 3 goal lead with a reverse stick strike from the top of the D from Dominic Smith squeezing under the keeper to make it 4-1. But Adelaide battled on and soon scored a second goal against us with a shot past a diving Nick Smith in goal. But cometh the hour, cometh the man, and it was Colin Angel who scored number 5 with a nifty deflection past the keeper from a ball into the D. 5-2, but we were not done yet. And a switched penalty corner was picked up by Jonathan Pitcher who neatly flicked on reverse stick in at the near post. 6-2 the final result. And we march on unbeaten!
Thanks to our fan club of Samantha Lucy, Lisa Jobson and Charlotte Lucky for coming along to support on a very cold day!
---
Ladies 1s: When you can't wait to play hockey and the game gets cancelled ?
Thanks to Karen Goode for her expert pitch assessment skills
---
Ladies 2s: When you travel all the way to Chiswick to be told by one our our players who heard it from one of their players at the train station that the game is cancelled! Utterly ridiculous. #ohwell #bigbreakfastinstead